Vendors are a common sight on the streets of Harare. They sell all manner of goods including fruit, vegetables, fresh meat and fish.
Unemployment is high in Zimbabwe and many people are dependent on street vending in order to make ends meet.
But the sale of perishable food on the streets is not being properly monitored, and officials say this is a threat to public health, encouraging the spread of diseases like typhoid.
A total of 2,225 cases of typhoid and 9 deaths from the disease were recorded in 2016 and around three quarters of all cases were from Harare.
The World Health Organization (WHO) says on its website that typhoid is usually caused by the ingestion of contaminated food or water. The acute illness is characterized by prolonged fever, headache, nausea, loss of appetite, and constipation or sometimes diarrhea. The WHO says "severe cases may lead to serious complications or even death."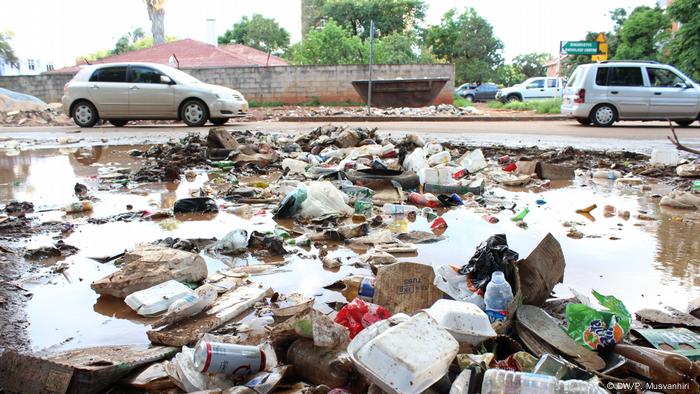 Poor waste management in Harare is contributing to blocked drains and unhygenic conditions
Some 21 million people are affected by typhoid around the world every year and more than 200,000 die from the disease.
In a response to the typhoid outbreak, Zimbabwe's Health Minister David Parirenyatwa has banned the sale of food on the streets of Harare.
"It was agreed to stop the vending of food, be it processed or unprocessed, in undesignated areas," he said.
Parirenyatwa stressed the need for controls and their implementation. "We will not win the war against typhoid if certain conditions persist in the country," he said.
But vendors in Harare have reacted angrily to the ban on the sale of food, saying it is threatening their livelihood.
'Trying to earn a genuine living'
Ronald Mureverwi from the National Vendors Union Zimbabwe told DW the ban was a shocking move that could only have have come from an irresponsible government.
"If they were responsible enough and cared for the people, then they should have engaged in a process of finding ways of creating a conducive environment so that they can support the efforts of Zimbabweans who are trying to earn a genuine living," he said. "Vending is not criminal in any way," he emphasized.
Mbare, the Harare suburb hardest hit by the typhoid outbreak, is in a sorry state. There are piles of uncollected garbage and drainage is poor. Mbare is also home to Harare's biggest vegetable market. An overpowering stench greets you as you approach it.
High unemployment in Zimbabwe has forced many people, especially women, to take up street vending in order to support themselves and their families
One local resident told DW that the area has a history of recurring health problems, evidently linked to poor sanitation. "People are always sick. If council officials come to fix burst sewer pipes, they do a half-baked job."
Harare council officials say the city is failing to provide services because some residents are not paying rates.
Harare City acting corporate communications manager Michael Chidme said "if that money isn't paid, the city cannot sponsor service delivery."
Health Minister David Parirenyatwa conceded that their biggest fear was cholera. "We can manage more or less with typhoid, but cholera will just be a nightmare for us."
In 2008, cholera claimed at least 4,000 lives in Zimbabwe. It happened at the height of the country's economic crisis when most of the public hospitals were closed due to a shortage of medicines and the flight of health workers abroad.
Cholera is transmitted through contaminated food or water, the WHO says.