Located in the fashionable Mitte district, the Ackerkeller club is hosting one of its regular "Meschugge" parties. The walls are decorated with Star of David pennants and blue and white Israeli flags, and the event is billed as Ofra Haza night - a tribute to the Israeli singer who died in 2000.
Just around the corner on Oranienburger Street, in what used to be Berlin's Jewish quarter, is the New Synagogue - once the largest in Europe. With the Old Jewish Cemetery and its many plaques commemorating former Jewish residents, Mitte is a neighborhood where history casts a long shadow.
But with local nightspots such as the Ackerkeller attracting increasing numbers of Israeli revelers, hot off the many low-cost flights now operating between Berlin and Tel Aviv, the scars of the past are clearly beginning to heal.
The Meschugge parties are organized by Aviv Netter, aka DJ Aviv Without the Tel. He moved to Berlin from Tel Aviv four years ago, attracted by the German capital's liberal atmosphere and fabled nightlife.
He says that these days, Berlin is the last word in hip for urban Israelis, and that for young people keen to take time out after their military service, Berlin is starting to replace traditional "chill-out" destinations like India.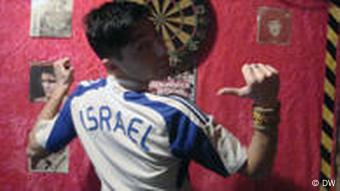 Aviv says Berlin is a popular destination for young Israelis
"Berlin has become a bit like Tel Aviv's big brother," he said. "Everyone in Tel Aviv looks to Berlin to see what's going on. As well as all the English and Spanish, it's definitely not that strange to hear Hebrew in the clubs here anymore."

Tracing their roots
Thirty-year-old Dan Etziony is another Tel Avivian who's relocated to Berlin. He runs a cafe in the courtyard of an arts complex called the IMA Design Village, which is owned by an Israeli friend of his.
Poignantly, the street outside the sprawling red brick former factory is studded with a number of "stumbling stones" - the small metal paving stones embedded in the sidewalk to serve as a memorial to Holocaust victims.
With its menu of Middle-Eastern specialties such as falafel and shakshuka, Dan's cafe hosts a monthly Hummus Brunch and adds what he himself calls an "Israeli vibe" to the multi-cultural Kreuzberg neighborhood.
Dan has German, Moroccan, Polish and Russian roots, and both his grandfathers originally came from Berlin. One of them lost his whole family in Auschwitz, but he always told Dan that he should visit Berlin.
"He was in love with Germany," said Dan. "He always told me I should go to Berlin and see the city. I didn't do it while he was living but after he died I came here and I could immediately see why he liked it."
But not everyone in Dan's family approved. His father, in particular, struggled to come to terms with his decision to make Berlin his home, but eventually overcame his reservations and even visited.
"We were looking at the map and someone came up to us and asked us if we needed help," said Dan. "My father started to cry in the middle of the street. He said: 'I was afraid of that… I was afraid that I would see that [the Germans] are such a nice people. Everything that I thought I knew for 60 years and was raised to believe is totally not true.'"

Even though attitudes to Germany are changing in Israel, a move to the city where the Holocaust was planned is still frowned upon by many.
"I think in my generation history still plays a role because of what happened to our grandparents," said Dan. "It's still a statement to say that I'm coming to Germany, to Berlin. Lots of people ask: Why? How can you be there, with that language and those people?"

Not forgetting, but remembering the past
With cascading auburn hair and porcelain skin, 28-year-old Ofri Brin cuts a striking figure in the black and white streets of wintertime Berlin. She and her partner play in the experimental pop band Ofrin, and have just recorded their third album in Berlin.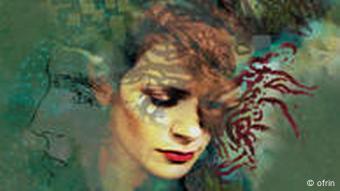 Ofri Brin belongs to Berlin's avant-garde tradition
Originally from a small village in the Golan Heights, Ofri earned her stripes as a performer when she spent her two years of compulsory military service touring with an entertainment group playing Israeli cover songs to the troops.
She moved to Berlin to join her boyfriend, whom she met in the army. He had come here to study music - following in the footsteps of his German grandfather, a pianist who played scores for silent movies.
As the grandchildren of German Jews who left in the 1930s, the couple both have German citizenship - thanks to a clause in Germany's constitution that guarantees Jews persecuted under the Nazi regime and their descendants a right to a German passport.
For Ofri, living in Berlin as an Israeli doesn't mean forgetting the past. On the contrary, she says it's sharpened her awareness of history.
"I'm always struck by the way old buildings exist next to new ones, history is in every corner here," she pointed out. "Sometimes you look at it and you feel so sad that you just break, and other times you look at it and think it's great that it's still there, because it gives you the opportunity to know what happened."

Ofri was drawn to the city by its bohemian tradition, and enjoys playing a role in restoring its pre-war reputation as a hive of creativity and tolerance. "Berlin has become such a cultural pearl," she said. "That's what it was before the war - it was always a place that broke all the rules and made things happen. It's very avant-garde and has space for every kind of culture and art."

She also says she enjoys Berlin's anonymity. "I like the way the city is structured, because it's so open," she observes. "You don't feel like millions of people live here. You have your space."

Individuals, but citizens of the world
Her delight in big city invisibility seems to be typical of Israelis in Berlin. Their precise number is almost impossible to come by, as they tend to eschew official Jewish organizations.
Ilan Weiss moved to Berlin from Israel some 20 years ago. He runs a newsletter and a website coordinating the social life of Israelis in Berlin. It's the first port-of-call for many new arrivals. He estimated that there are 3,000 to 5,000 of them in the German capital today, but added there could easily be more.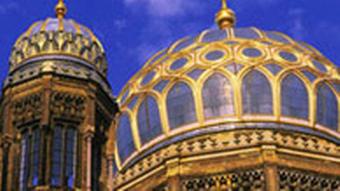 Few young Israelis in Berlin join the Jewish community
"It's hard to get them under one roof," he said. "In Israel everyone knows what you're cooking for dinner, so they like coming here where they know nobody." The younger generation identifies themselves as Israeli rather than Jewish, added Weiss, pointing out that Israeli Jews who did not grow up in the Diaspora feel less of a need to "belong."
Still, the present generation has its own problems. Today, some Israelis move to Berlin because Germany seems like a safe option. In a sense, history has come full circle.
"In 2001, after the strike on Iraq, the German embassy in Tel Aviv issued a report about the rise in the number of Israelis claiming German nationality," said Weiss. "The grandparents left because they feared for their lives here. Now, the grandchildren are returning because they fear for their lives in Israel."
And the young Israelis in Berlin are in no hurry to return.
"I think one of the hardest things is to go back," said Aviv. "Life here has no worries, and you can live your life with a clear mind. People here are less bothered with daily political trouble."
Aviv considers Berlin one of the most liberal, open-minded places in the world. "Germany had such a difficult growing up process, which the whole world suffered from, but this has made it the best place to be today if you are a citizen of the world," he said.
Authors: Jane Paulick and Sonia Phalnikar
Editor: Kate Bowen