Two young men in Germany are being investigated for hacking the computers of pop stars like Justin Timberlake, Lady Gaga, Ke$ha and Kelly Clarkson to obtain and then sell unreleased music files.
Police have found evidence that the 17-year-old and 23-year-old from western Germany used Trojan viruses to infect computers associated with the singers, enabling them to download the files, confirmed Ralf Haferkamp of the Duisburg prosecutor's office in an interview with Deutsche Welle.
Members of a Kelly Clarkson fan club became suspicious after the young men offered to sell them new and commercially unavailable songs via an online platform. The club members contacted Clarkson's management, who in turn notified the police.
"The investigation could result in charges relating to commercial copyright violations, which carry a penalty of up to five years in jail," Haferkamp told Deutsche Welle. "Since one of the hackers is 17 years old, he could face a similar punishment in a detention center for young offenders."
More than money at stake

Authorities estimate that the hackers may have pocketed up to five-figure revenues from selling the illegal files, but turning a quick profit appears not to have been their only motive.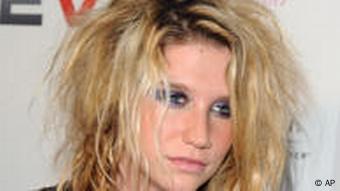 Singer Ke$ha is alleged to have given in to the hackers' blackmail demands
The two may face additional charges for obtaining a sex photo of one singer and blackmailing the star with the item in exchange for a public shoutout for a DJ.
A racy photo of 23-year-old pop American pop star Ke$ha has since appeared on the website of a DJ sharing the same stage one as one of the accused hackers.
Internet tabloids and blogs have been following the alleged blackmail incident, but authorities handling the investigation are unable to confirm or deny the rumors that Ke$ha was the performer involved.

Lady Gaga's laptop?
The files stemmed from a variety of computers, including those belonging to managers and others close to the performers but not necessarily from the singers' personal devices.
"I can't say whether the laptop sitting on Lady Gaga's nightstand was among them, but I think that's pretty unlikely," Haferkamp told the dpa news agency.
The hackers have already widely confessed to the charges, and authorities expect the investigation to continue until early next year.
For now, the two young men, who each live at home with their parents, are not in custody.
Author: Greg Wiser (dpa, AP)
Editor: Kate Bowen