Katja Jarc knows fewer younger people are going to church. The 18-year-old Slovenian can see it every Sunday when she single-handedly brings down parish's average age.
"Nearly everyone is at least 60 years old," she said. "It's hard to find anyone my age there."
Finding more young people interested in religion is one of the reasons Jarc decided to attend the World Youth Day event in Cologne. She's achieved that goal, since there are some 400,000 young faithful who have come to Cologne for prayer, song, revivals and some good old-fashioned partying. The Catholic festival also sent her on the pilgrimage of sorts even after she arrived in this city on the Rhine. This second pilgrimage was shorter, however, than the long trip from Slovenia. This one started at the river's edge and ended at Cologne's famous cathedral.
"Here there are so many friendly people who are interested in church and prayer," she said as groups passed by. Some people were waving national flags; others whispered the rosary in a handful of different languages. "I want to meet as many people like me as I can here in Cologne."
Covering a distance of about two kilometers (1.2 miles), the pilgrimage is intended to represent the Three Wise Men's search for God. World Youth Day organizers have recommended all visitors take the walk before visiting the shrine to the Biblical kings inside the cathedral.
Differing view of church's teaching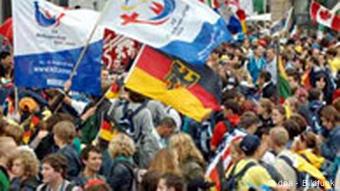 Many young Catholics have their own ideas about faith
Though the 400,000 pilgrims from some 120 different countries are united by a single faith at the Catholic festival, the young people's interpretation of their religion tends to differ, especially when it comes to personal issues like contraception and abortion.
"Something isn't right when there are so many devout believers in Africa and lots of them end up dying of AIDS," said Daniela Gall, 18, who lives near Munich.
But the church shouldn't just sway with the mores of the day either, according to Bryan Brochu of Alberta, Canada.
"One of the strengths of the church is that it doesn't change every time society wants it to," said Brochu, 21, as speakers played recordings of the Hail Mary in German, English, French and Italian. "There are people who say the church is too old school, but I think it should stick to its values and traditions."
Admitting that he is not overly religious, Tobias Straub, 18, came to the World Youth Day at the urging of his priest at home in Bavaria who told him to look at the church's teachings as a lighthouse.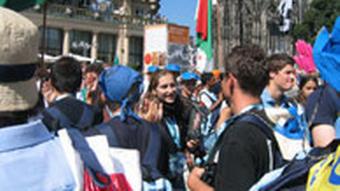 The pilgrimage continues outside the cathedral
"There are times you really need some direction and other times you can go on your own," he said as his group joined the parade snaking its way around the square outside the cathedral. "People should decide for themselves."
Keeping youth interested
Catholicism shouldn't force all of its tenets on people who are looking for guidance since the Church has bigger problems it should concentrate on, according to Jarc.
"I think the Church should concentrate more on finding ways to get more younger people interested in religion," she said.
Young people want to know the church is also taking them into consideration every day, not just when it's organizing concerts along the Rhine.
"I like the times when I can organize something like a mass or other meeting myself," Gall said. "That and a great priest who helps us do what we want is what keeps me interested in the church's youth group."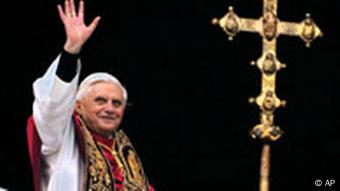 Pope Benedict XVI will say mass for 800,000 on Sunday
In an interview with Vatican Radio, Pope Benedict XVI (photo) agreed that sparking interest in religion among youth is key to the World Youth Day's success.
"If this zest, this joy, to know Christ would come alive again and give the church in Germany and Europe a new dynamic, then I think the aim of World Youth Day would be achieved."
According to Jarc, the songs, prayers and chants of "Hey, Hey Benito" heard along the pilgrims' trail show that a spark has already been lit. Now it's up to the church and the pilgrims to keep it from going out, she said.
"The World Youth Day is great," she added. "But it's only one week."
Disclaimer: Deutsche Welle is a media partner of World Youth Day 2005.