The World Trade Organization conference of trade ministers, which came to an end on Sunday, was meant to dismantle barriers to global trade and further the Doha round of trade talks begun in the Qatar city two years ago and scheduled to be completed in late 2004. But from the very start of the five days of talks between the 146 WTO member states, the meeting was dogged by the issue of farm subsidies. The negotiations in the Mexican resort town Cancun were dealt the final blow when African and Asian countries refused new measures to cut red tape on Sunday.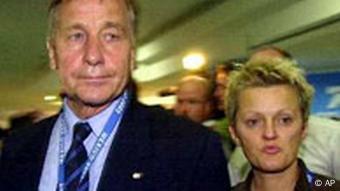 Grim faces from German minister Wolfgang Clement and Renate Künast in Cancun after WTO talks collapsed.
"In Cancun, buzzwords prevailed over reason," commented German Economics and Labor Minister Wolfgang Clement, interviewed by German broadcaster ZDF on Monday. Clement said an important chance to open markets had been wasted.
European Trade Commissioner Pascal Lamy was equally grim: "I would not say the Doha round [of trade talks] is dead, but it is certainly in intensive care." And German Agriculture and Consumer Affairs Minister Renate Künast lamented: "Those who now celebrate, celebrate on the backs of the weakest."
But some poorer countries boasted they had been successful in blocking U.S. and EU ambitions. "[We are] elated our voices have now been heard," Philippine Trade Secretary Manuel Roxas said. The president of the United Federation of Sugar Producers in the Philippines, Manuel Lamata, said it was impossible for the third world to compete with subsidized developed countries. "It is about time the first world countries realize they cannot just step on the poor countries," he said.
Indeed, subsidies were one of the main stumbling blocks in the talks. A 21-nation coalition of developing countries led by Brazil, China, India and South Africa had aimed to convince the United States and the European Union, in particular, to slash farming subsidies that they said unfairly forced their farmers to compete against the world's richest countries. The talks on subsidies, which made no progress, bogged down the entire conference.
Moves by the EU, Japan and South Korea to curry agreement on the so-called Singapore topics -- foreign investment, competition, customs facilitation and government procurement -- were shot down by poorer countries, who insisted that farm subsidies were the most pressing issue.
Pyrrhic victory?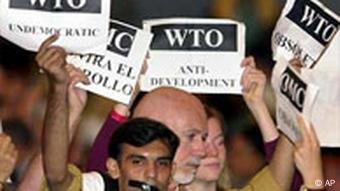 Demonstrators protest against the WTO during the inauguration ceremony meeting in Cancun.
But jubilation among developing countries, may soon be tempered by bleak predictions from analysts.
Poor countries will suffer most from the failure to cut tariffs and open markets, the head of the Organization for Economic Cooperation and Development's trade directorate, Jean-Maire Metzger, told Reuters news agency. Developing countries would earn more than twice as much as they receive every year in official development aid from trade liberalization, he said. "This is a Pyrrhic victory for those who claim victory."
But in an interview with Deutsche Welle, the chief economist at Deutsche Bank, Norbert Walter, was critical of the richer countries refusal to give way on farm subsides. "If we want something of the developing countries -- and we should -- then we should put an end to the protection we continue to claim in agriculture and the textile industry."