When Prince Henry the Lion's Gospels were auctioned for 16 million euros ($20.7 million) at Sotheby's in London in 1983, the hand-written medieval masterpiece was called the most expensive book in the world.
At that time, Germany's federal government, the state governments of Lower Saxony and Bavaria, the Foundation of Prussian Cultural Heritage and private donors pooled their funds to bring the fully intact book back to Germany for safe keeping.
Strangely enough, nobody knows who got the 16 million euros. But with 800 years of history between its pages, there's plenty of room for mystery.
Commissioned for new cathedral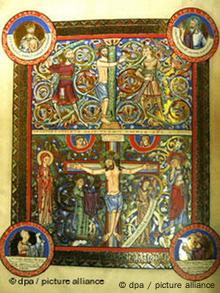 Monk Herimann is the artist behind Henry's Gospels
Henry the Lion, prince of what were then the kingdoms of Saxony and Bavaria, was one of the most powerful rulers of the Middle Ages and a member of the Guelph royal line.
Fitting with the tradition of the time, he commissioned the book in 1188 in honor of the consecration of the St. Mary's altar in the recently completed cathedral in Braunschweig.
Still wholly intact except for minor wear, the text includes all four of the Bible's Holy Gospels on 226 parchment pages. Fifty of these pages are colorful, elaborate pictures with gold leaf.
The book's high liturgical purpose was the reason for its ornate design and distinction: passages were read from it during each mass.
Spotty history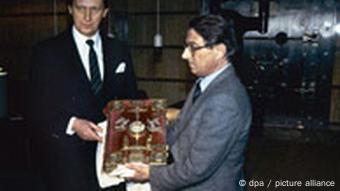 The so-called "Evangeliar" in 1984 shortly after its return to Germany
Only bits of the text's fate after Henry's reign are known. At some point it landed in Prague and in 1861 it was bought by the King of Hanover, who wanted to place it in a museum. When he was dethroned in 1866, he took the precious text with him to Austria.
Helmar Härtel from the Herzog August Library, where the Gospels are now kept, told German television station ZDF that they were offered to the King of England in 1945 after World War II had come to an end. He refused.
The parchments managed to make it to England nevertheless, though the how and why are unclear, and they were auctioned at Sotheby's in 1983. Since that time, the Gospels have been housed in the Herzog August Library in Wolfenbüttel just outside of Braunschweig in Lower Saxony.
After March 18, the 800-year-old pages will be returned to their specially designed climate-controlled safe, taking their history -- and mystery -- with them.