Lucas Cranach was a true Renaissance man. He possessed the rare combination of talent and wealth and, not only did he become one of the most significant painters of the German Renaissance, he also enjoyed success as a merchant, politician and even a pharmacist.
When the ruler of Saxony, Frederick III, invited Cranach to Wittenberg in 1505 to become his court painter, the 33-year-old artist couldn't have suspected that he would spend the next 45 years of his life there. Working as court painter, crafting mainly portraits and scenes from the Bible and mythology, was only part of Cranach's broad career.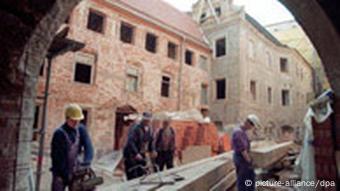 Portions of Cranach's residence were renovated in 1998, the rest is now complete
In 1512 he bought a house in the center of town for both his family and his flourishing art workshop. Parts of this house, located at Market Square 4 in Wittenberg, have been under reconstruction since 2003, a 3.2 million euro ($4.1 million) project that officially drew to an end on Wednesday.
The building, restored in authentic Renaissance style, will house permanent and rotating exhibitions, a youth art academy, offices for the Cranach Foundation, guest rooms and -- fittingly -- workshop space for artists.
Unusually large workshop
Cranach's a workshop on Market Square quickly outgrew its quarters. In 1518, he bought another larger accommodation down the road, which at that time was the single largest house under private ownership in Wittenberg. Up to 30 young apprentices were eventually employed there under Cranach's guidance.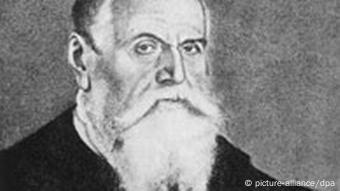 A self-portrait from 1550
Such a large-scale workshop, where journeymen painted but used Cranach's signature, was unusual at that time, said Eva Löber from the Cranach Foundation in Wittenberg. That's part of what makes him notable.
Cranach, together with his apprentices, produced some 5,000 works, said Löber, a thousand of which still exist today. His paintings and woodcarvings are scattered among various museums throughout the world.
A man of many trades
Already an influential man in town, Cranach entered local politics in 1519 as the town treasurer. Two decades later, he served as mayor of Wittenberg.
In 1520, Cranach was granted a license to practice as an apothecary. His new workplace was located at on Schloss Street, and there he also sold wine and other sundries.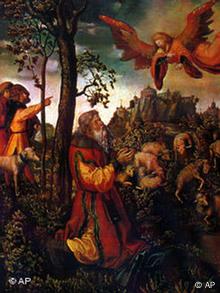 "Annunciation to Joachim Among the Shepherds"
The Schloss Street location held Cranach's precious printing presses. Invented just over half a century before, the devices were still extremely rare. Cranach put his presses to work publishing some of the significant documents of the Protestant Reformation, including Martin Luther's September Testament.
Cranach and the Reformation
Luther and Cranach were close friends -- Cranach and his wife Barbara even served as witnesses at the theologian's wedding in 1525. Not only did the artist fashion portraits of Luther and other Reformation leaders, it was also his personal support for the movement that earned him a nickname as "painter of the Reformation."
"Cranach's 'Wittenberg Altar' is the best testimony to the Reformation," said Eva Löber. "It points toward Christ and the Bible. The orientation to the Word was very important to Luther."
It was in Wittenberg that Luther posted a copy of his famed 95 Theses in the fall of 1517.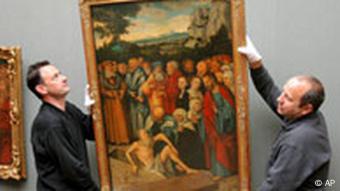 Cranach's "The Resurrection of Lazarus" is in the Gemäldegalerie in Dresden
The Europe-wide conflict over reforms to the powerful Catholic Church eventually drew Cranach away from Wittenberg and he did not spend out his final years in the town in which he'd invested so much.
After losing the Battle of Mühlberg in 1547, Saxony's elector at the time Johann Frederick I, called John the Magnanimous, was sent into exile because of his support for the Reformation. Cranach followed and served as Johann Frederick's court painter in Augsburg and then in Weimar, where the painter died in 1553.
Cranach's house in the 20th century
Located in eastern Germany, Cranach's Wittenberg houses lapsed into disrepair under the communists in the 20th century. The city bought the buildings in 1991 as a result of a citizen initiative started the first of two restoration projects.
Following the completion of the second restoration project, the keys to the historic complex were handed over to Wittenberg's mayor on Wednesday in an official ceremony.