Brewery giant Anheuser-Busch InBev announced positive second-quarter results on Thursday as increased sales in Germany and the Asia-Pacific region helped offset a general decline in beer consumption in Europe and the US.
The Brussels-based company reported a 3.7 percent increase in turnover to $9.95 billion (7 billion euros) compared with last year, partly due to increased sales volumes as well higher prices and a favorable currency situation. Pre-tax profits rose by 6 percent in the second quarter, to $3.75 billion.
The company also announced satisfying results in the particularly competitive German beer market. AB InBev's German brands, especially Beck's and Hasseröder, reported a 10 percent increase in turnover.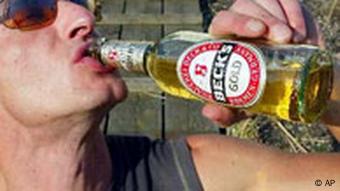 InBev owns some of Germany's most popular beers
Up around the world, down in the US
In total, the world's leading brewer - which also owns the Budweiser, Leffe and Stella Artois brands - reported a 26 percent rise in second quarter net profit, topping market expectations.
AB InBev recorded a net profit of $1.45 billion for the three months to June, topping market forecasts of $1.43 billion.
In the United States, the group's performance was affected by poor weather and high fuel prices. Its results in Brazil, traditionally a strong market for the company, paled in comparison with 2010, when the hype surrounding the soccer World Cup boosted sales.
AB InBev welcomed the figures, despite the disappointing results from the US. The company predicted volumes "should continue in the same vein in the second half of the year, and in the last quarter in particular."
AB InBev was created in 2008 by the $52-billion merger of Belgian-Brazilian InBev and US firm Anheuser-Busch (AB).
Author: Ben Knight (dpa, Reuters, AFP)
Editor: Sam Edmonds