US lawmakers are claiming that the White House has created a possible security risk by freeing five Taliban detainees in exchange for US army soldier Bowe Bergdahl's freedom. They have also accused the administration of breaking the law by failing to notify Congress 30 days in advance.
Representative Buck McKeon and Senator James Inhofe, chairman and ranking member of the House and Senate Armed Service Committees respectively, celebrated Bergdahl's release in a #link:http://armedservices.house.gov/index.cfm/press-releases?ContentRecord_id=5376A321-8AAB-427E-A146-160470F8FC2E&ContentType_id=E0C7B822-826F-493D-8CEF-1E21AA53E12A&Group_id=12580721-af41-4987-849c-c25b730d096d:joint statement#. But they expressed concern that the prisoner swap could provide an incentive for the Taliban to take further captives.
"America has maintained a prohibition on negotiating with terrorists for good reason," the two Republicans wrote. "Trading five senior Taliban leaders from detention in Guantanamo Bay for Bergdahl's release may have consequences for the rest of our forces in Afghanistan."
But Stephen Biddle, a national security expert at The George Washington University, believes that the criticisms leveled by members of Congress against the Obama administration are weak.
"This idea that it will encourage further hostage taking - there's no encouragement needed," Biddle told DW. "For years before now, the limiter on how many American captives the Taliban take is how many they are able to get."
Security risk?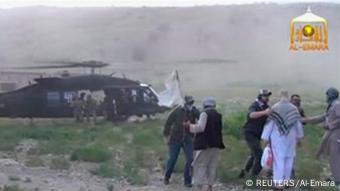 The Taliban turned Bergdahl over to US forces as part of a prisoner swap
Critics have also said that the released detainees, who have a history of violence, could jeopardize the security of American forces still deployed in Afghanistan. All five of the detainees were senior members of the Taliban before they were captured. They are Mohammad Nabi Omari, Mullah Norullah Noori, Mullah Mohammad Fazl, Abdul Haq Wasiq, and Khirullah Said Wali Khairkhwa.
But according to Biddle, the detainees have been inactive for more than a decade due to their detention, making it unlikely that they will significantly increase the threat already posed by Taliban members currently operating in Afghanistan. The Obama administration has transferred the detainees to Qatar. They are forbidden to leave the Gulf emirate for the next year.
For Biddle, the real question is whether or not the White House potentially gave up important leverage that it could have used in negotiations to end the war in Afghanistan.
"The detainees we hold in Guantanamo are one of the few sources of leverage we have in a negotiation that's centrally important," Biddle said. "And we just gave up the five that the Taliban want the most in exchange for Bowe Bergdahl."
Legality questioned
Beyond the questions about possible security risks, the Obama administration has also been accused of violating the law by failing to notify Congress 30 days prior to the detainees' release. That's a requirement under the National Defense Authorization Act (NDAA), which President Obama signed into law.
"Our joy at Sergeant Bergdahl's release is tempered by the fact that President Obama chose to ignore the law, not to mention sound policy, to achieve it," McKeon and Inhofe wrote in their joint statement.
Before signing the NDAA into law, the president issued a so-called signing statement, in which he reserved the right to ignore the 30-day requirement under exigent circumstances.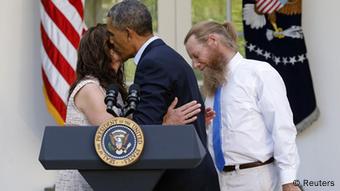 Bergdahl's parents met with President Obama after their son was freed
President Obama did act outside of the bounds of the statute, according to William C. Banks, an expert on national security law. But as commander in chief, the president has the constitutional obligation to conduct the foreign affairs of the US. In this case, those basic constitutional responsibilities outweighed the notification requirement, Banks told DW.
"It is fair to raise the issue," Banks, director of the Institute for National Security and Counterterrorism, said of the congressional criticism. "Any of us who are concerned about our government acting by the rule of law would want an explanation for why the i's were not dotted and the t's were not crossed in the case."
"The president gave a fair explanation about the sensitivity of the negotiations and the exigency which attended this transfer of prisoners," he said. "I think we should be satisfied with that, and he did it again on the basis of his constitutional authorities."
Bergdahl's fate
In terms of Bergdahl, the circumstances that led to his captivity are also a source of controversy. In 2009, he allegedly left his post without authorization. At the time, he was stationed at an outpost two hours south of Sharana, the capital of Paktika province in Afghanistan. Bergdahl was a private when he went missing, but was promoted in absentia to sergeant in 2011.
"[…]Bergdahl was a deserter, and soldiers from his own unit died trying to track him down," Nathan Bradley Bethea wrote in an #link:http://www.thedailybeast.com/articles/2014/06/02/we-lost-soldiers-in-the-hunt-for-bergdahl-a-guy-who-walked-off-in-the-dead-of-night.html:essay published in the Daily Beast#.
Bethea, who served in Bergdahl's battalion and participated in the search for the missing soldier, said he should be treated with humanity but should also have to provide an explanation for his actions. He went on to say that he doesn't expect the Defense Department to punish Bergdahl.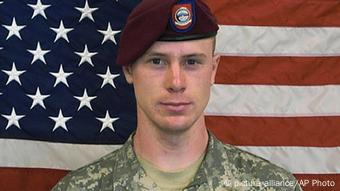 Will Bergdahl be charged with desertion?
According to Eugene Fidell, an expert on military law at Yale Law School, Bergdahl could face a maximum of five years in prison if convicted of desertion. In 2010, a Pentagon investigation concluded that he had walked away from his post before being captured by the Taliban.
"I actually don't know of anybody who has said this isn't desertion," Fidell told DW. But there has been some speculation about whether or not the army will press charges given the trauma that Bergdahl has already suffered from five years of captivity. Fidell believes that the military will likely moved ahead with prosecution.
"Remember he has a lot of people from his former unit calling for his head on a pike," Fidell said. "The government may not be able to walk away from this."