The new window is made up of 11,200 squares and has been installed on the sunny, south-facing side of the Gothic cathedral.

More than 1,000 visitors came to witness the event. Eagerly craning their necks upwards to view the 110-square-meter (1,184 square-foot) artwork, the majority seemed entranced by the kaleidoscope of colors.

"The cathedral has been enriched and so has the city," Cologne Mayor Fritz Schramma said after the unveiling.
Top opposition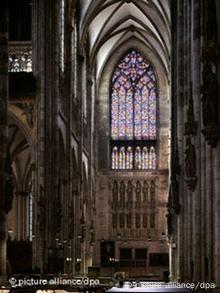 At the inauguration ceremony, the window was described as producing a "symphony of light"

But not everyone is apparently happy with the new design. The online edition of the Kölner Stadt-Anzeiger newspaper reported that none less than the Archbishop of Cologne, Cardinal Joachim Meisner, opposed it.

Citing a close confidante of Meisner's, the Stadt-Anzeiger wrote that the archbishop even tried to stop the project, resulting in serious disputes within the committee responsible for deciding over the window.
"The cardinal did not want this window," said the source.

The archbishop, who is not opposed to modern art per se, reportedly wanted to have a figurative work, for example with representations of saints or 20th century martyrs, rather than an abstract one.
Cathedral Provost Norbert Feldhoff said the reason for Meisner's absence at the unveiling ceremony was "purely technical" and was linked to a clash with a previously planned trip to Poland.
Artist's gift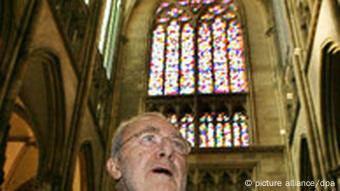 Artist Gerhard Richter was there to see his work unveiled

Gerhard Richter, who lives in Cologne, gave his work on the window for free, while the production costs totaling 370,000 euros ($506,000) were covered by private donations.

The 75-year-old artist, who has a reputation for being a man of few words, seemed to be happy with his work and said he was proud "it hadn't gone wrong."

Richter said it had been a little bit "nerve-wracking" to create a work that, unlike a picture, could not simply be taken down again.
The original window was destroyed in World War II and replaced in the 1950s by a nearly transparent piece of glass.
Cologne Cathedral, which is one of Germany's most famous landmarks, dates back to the 13th century and was added to the World Heritage List by UNESCO in 1996.