The Cologne Cathedral's new stained glass window by acclaimed German artist Gerhard Richter can't be overlooked, not only because of its immense size and conspicuous location but also because of its non-traditional approach.
"The window will be a significant contribution of modern art to the Cologne Cathedral," said Barbara Schock-Werner, the cathedral's master builder.
Gerhard Richter is considered one of the most significant painters of our time. His works adorn museum walls around the world and collectors drop millions to snap up his canvases. The 74-year Cologne-based artist is planning to unveil his monumental, 11,200-piece glass window in spring 2007.
Gerhard Richter has offered to craft the 110-square-meter (1,184-square-foot) glass window as a gift to the city of Cologne, the cathedral and its visitors. Donations will cover the production costs, which amount to some 350,000 euros ($447,000).
A modern masterpiece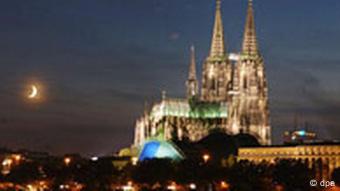 The Cologne Cathedral attracts some 2.5 million visitors per year
"The most important thing for me was to integrate this window into the cycle of historical windows, particularly as far as color goes," Schock-Werner said. Richter's window doesn't prolong the existing tradition but develops it with his abstract use of color.
Glass squares in 80 different shades will replace a nearly transparent piece of glass that was inserted in the 1950's after original window was destroyed during World War II. The plans for the damaged window, created in 1863, had been lost so it could not be reproduced.
The less-artistic interim piece needs to go because it lets too much light into the church and doesn't correspond stylistically to the Gothic cathedral, Provost Norbert Feldhoff told German news source dpa.
"The order of the individual colors is random," said Schock-Werner, describing the all-over pattern of the squares, which measure 9.4 centimeters (3.7 inches) on each side.
The glass itself is not colored all the way through. Instead, colored pieces are attached to the outer surface of plain glass with the help of silicone.
Breaking a sacred art tradition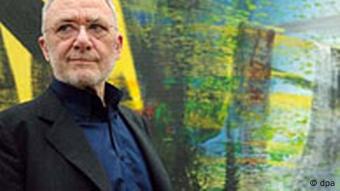 The artist and his "Abstract Picture" from 1984
Traditionally, church windows depicted biblical scenes. Long before computer books were printed, the panes told Bible stories to illiterate parishioners by presenting them in brightly colored, larger-than-life images.
However, Richter's window makes an intentional break from tradition. It doesn't render Daniel in a den of lions, the flight of the Egyptians, Jesus' birth, or the crucifixion. In a sense, the church took a step of faith in abandoning a long-standing tradition and accepting a piece of art that is not explicitly religious.
When asked if the window is a religious work of art, Richter said, "Oh, that's hard to say. Art always has something to do with that."
Even if Christian motifs don't appear in his latest glass work, crosses and other Christian symbols are visible in many of his other works. So it's not without reason that Richter received the German Catholic Art and Culture Prize two years ago.
The making of an artist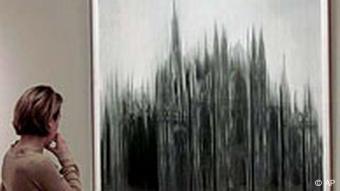 Richter painted Milan's Gothic cathedral, which has similarities to Cologne's but is much larger
This isn't the first time the internationally known artist has chosen colored glass as his medium. In 1991, for example, he created artistic accents for the Hypobank in Düsseldorf, which was designed by Cologne architect Oswald Mathias Ungers.
Richter became well known in the 1960s for modeling his paintings on photographs while using indistinct lines. His works, which span a career of over 40 years, are stylistically diverse, as New York's Museum of Modern Art showed in 2002. In honor of the Dresden native's 70th birthday, the museum organized the largest retrospective exhibition ever done for a living artist.