Modeled on a similarly-named program by Facebook, the Wikipedia Zero program aims to persuade telecommunications providers to offer Wikipedia content for free - at "zero-rate" in industry terms - in developing countries throughout the world.
Unlike Facebook's program, which pays carriers to provide Facebook content to users for free, Wikipedia is adament about neither paying carriers nor signing exclusive arrangements with any single national carrier. That places it in the unenviable position of having to persuade for-profit companies to subsidize Wikipedia content.
"Getting the carriers on board was like pulling teeth," said Kul Wadhwa, head of the Wikipedia Zero project, in an interview with DW. "There was a lot of work that had to be done technically." Wikipedia was simultaneously demanding a long-term commitment, technical investments and, unlike Facebook, was offering no advertising. One of its few perks was that it requires one-fourth the bandwith of a typical page.
Still, says Sajag Arora, who heads the telecommunications team at the South African branch of the KPMG consulting firm, the concept benefited from the fact that it had been "well tested with Facebook Zero." From the perspective of service providers, it would also have a knock-on effect, since links to others sites would result in clicks, data transfers and the associated data fees. Wikipedia, in other words, did have a business case.
For a program that began in late 2012, the map on Wikipedia's own Zero page (here below) appears to reflect that high level of success.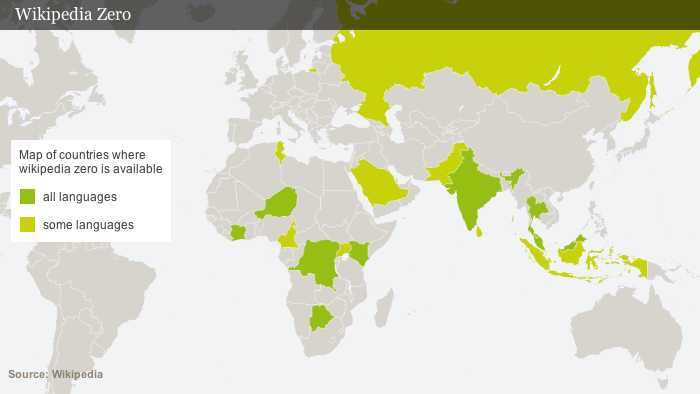 Orange and Wikipedia
This map, however, does not tell the whole story. Smartphone users in Cote d'Ivoire, Niger, Tunisia, Cameroon, Democratic Republic of the Congo, Uganda, Kenya or Botswana, do not universally have access to free Wikipedia content. Just a single company offers them that opportunity: Orange, which has its headquarters in Paris, France.
Orange spokesperson Mylene Blin told DW that the company had seen a significant increase in the number of Orange customers viewing Wikipedia from their mobile phones since the launch of the service in 2012. She also pointed to a Wikimedia study showing that 45 percent of users in developing countries would be willing to switch carriers in order to get the offer.
But while Orange would not disclose the specific details of the partnership, the company "certainly invested a significant amount of time and resources in bringing Wikimedia services to our customers." Beyond the costs of launching and managing the service, the company currently loses revenues it would have otherwise garnered through downloaded Wikipedia data.
If Orange is suffering from the high cost of providing the data, Africans have it far worse on the receiving end. Yet the plan represents one of the best deals for mobile data in Africa.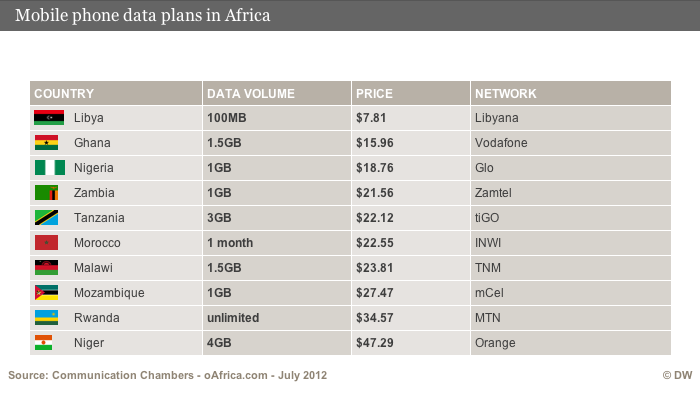 Decoupling data
In spite of the fact that Google is helping to expand access to broadband throughout the continent and that Africans continue to adopt new or second-hand smartphones, the high cost of data plans remains a huge hurdle to information access. Until prices drop, Wikipedia Zero - and the educational benefits it brings - will remain largely inaccessible.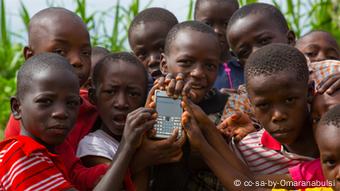 Hoping for lower data prices
Kul Wadhwa, however, plans to address that. "Carriers want [Wikipedia Zero] to be bundled in a data package," he said. "We're saying 'No.'"
The organization has just worked out an arrangement with telecommunications firm Airtel to provide free Wikipedia content independent of any data plan. "All you have to do is have a sim card," Wadhwa says. That project was just launched in Kenya, with plans to scale it to 17 countries in sub-Saharan Africa.
A further pilot project includes text messages via USSD protocol, which would allow a non-smartphone users to query Wikipedia and get an article via SMS. "We convinced Airtel to do this for free," he said, "and doing that was harder than mobile web." That pilot project ends in three months.
In the near term, and until these new and entirely free technologies are widespread, telecommunications consultant Arora says other companies will follow the current Orange model of bundled data plus Wikipedia - "unless they have an alternative content to keep their subscribers engaged." MTN is "very much likely to offer Wikipedia," he said.
In response to DW's inquiry, MTN wrote that discussions between it and Wikipedia are "ongoing" and that nothing had been agreed upon.
In general, Wadhwa is hopeful: "This is a movement, and there's some good telecommunications people out there who care about their country," he said, "especially if they have kids who use Wikipedia."