The US withdrawal from Afghanistan meant another last minute change of plans. President Joe Biden is now scheduled to meet with Ukrainian President Volodymyr Zelenskyy at the White House on Wednesday, a day later than expected. The Ukrainian leader has already had to wait a long time for the meeting: This is his first trip to Washington since taking office in 2019.
While Zelenskyy has pushed for the meeting, President Biden's response has been cool and reserved. It took the Ukrainian leader two months just to get a phone call with Biden. His hopes of meeting with him before the US president's scheduled sit-down with Russian leader Vladimir Putin in June were also dashed.
Western experts think Biden's attitude towards Ukraine is one of "benign neglect" — designed to send the message that Kyiv must do more on the reform front.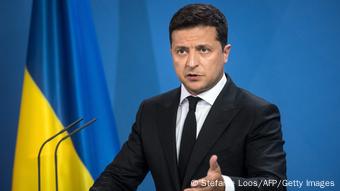 Ukraine's President Zelenskyy visited Berlin in July
Biden's restraint has many in Kyiv surprised
Officials in Ukraine were visibly taken aback by the new president's overall lack of interest. After all, Biden knows Ukraine better than his predecessors, and has visited the country on numerous occasions as vice president, even addressing Ukraine's parliament.
Observers in Kyiv believe Biden's dissatisfaction with Ukraine's efforts so far to rein in the country's oligarchs might be to blame.
The Biden administration has imposed sanctions against Ukrainian businessman Igor Kolomoisky, a former business associate of Zelenskyy, after accusing him of corruption.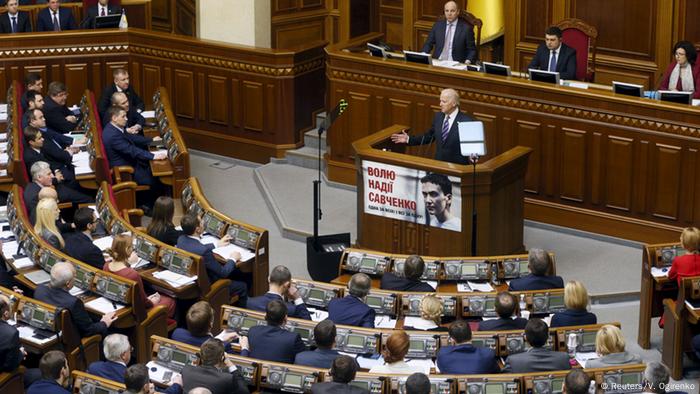 As vice president, Joe Biden addressed Ukraine's parliament in 2015
The president submitted a bill to parliament in June aimed at limiting the influence of oligarchs in Ukraine, but this may not be enough for Washington.
Oleksandr Kraiev is an analyst with the Kyiv-based Foreign Policy Council Ukrainian Prism. His explanation for Biden's reserve is that the US feels Ukraine lacks a "shared perception of certain challenges."
"The US has already done a lot, like expanding financial assistance and conducting special consultations," he says. Moreover, he thinks Biden spent his political capital when he called Putin back in April and stopped the Russian troop buildup along the Ukrainian border. Now Washington expects Kyiv to "fulfill its commitments by announcing plans for more reforms." The Ukrainian judiciary, which is considered corrupt, also needs to show that its capable of reforming, Kraiev said.
An expert at the Center for American Progress in Washington, Max Bergmann makes a similar argument: "I think what will happen with the Biden administration is that there won't be a blank check. They will demand that the Ukrainian government take steps to rid itself of corruption." He has called Zelenskyy's visit to Washington "long past due" and assumes that Washington will reaffirm its commitment to Ukraine's sovereignty and territorial integrity during Wednesday's talks.
Expectations in Kyiv are 'way too high'
In the run-up to Wednesday's White House meeting, the mood in Kyiv fluctuated between a determination to gain Washington's backing on a number of key issues and relief that the meeting was taking place at all.
But the expectations going into the talks are way too high, says Oleksandr Kraiev.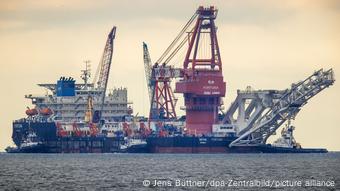 Ukraine is concerned by the North Stream 2 pipeline construction
For the Ukrainian president, the latest agreement between Germany and the US on the controversial Nord Stream 2 gas pipeline is likely to be high on Wednesday's agenda, since Kyiv sees it as a threat to its own security. Construction on the pipeline may even be finalized during their visit. The Ukrainian president referred in the past to the completion of the project as a "defeat" for President Biden and said he was surprised to hear through the media that Berlin and Washington had reached an agreement. The two leaders are expected to discuss what exactly would happen if Russia were to "weaponize" the new pipeline and end gas shipments through Ukraine.
No less important for Kyiv is the role the US is playing in resolving the armed conflict in eastern Ukraine. Zelenskyy hopes to persuade Biden to join the so-called Normandy format talks that were established back in 2014. The talks began during the 70th anniversary of the allied landings in Normandy to open a dialogue between Russia and Ukraine under the mediation of Germany and France. Washington has been reluctant to come aboard, despite appeals by Kyiv. Oleksandr Kraiev doesn't think Biden will budge on the matter and says bilateral approaches to resolving the conflict are more realistic. This might involve Washington appointing an envoy to Ukraine, a post that has been vacant since the resignation of Kurt Volker.
Will Ukraine benefit from the US withdrawal from Afghanistan?
Michael McFaul, a professor at Stanford University and former US ambassador to Russia, argued recently in a Washington Post editorial for the US to formally take part in the Normandy negotiations. In exchange, Zelenskyy should "stop asking, for now, to sign a NATO Membership Action Plan (MAP)."
"The hard reality is that Ukraine is not qualified to join NATO," he told DW.
Before his visit to Washington, Zelenskyy several times that he wanted to hear a clear answer of yes or no on the matter from Biden. MAP is used to prepare countries for NATO accession, which Russia views as crossing a very thick red line.
When considering recent developments in Afghanistan, President Biden's interest in Ukraine may be increasing, says Oleksandr Kraiev. Stanford Professor Michael McFaul agrees. "Especially after the return to power of the Taliban in Afghanistan, there will be little hope for Biden's proclaimed democracy agenda...if Ukraine's democratic experiment falters." When considering this, there may in fact be some hope that some of the Ukranian leader's wishes will be fulfilled.