In January 2011, Luiz Inacio Lula da Silva exited the presidential palace in Brasilia as one of the most successful leaders the country had ever known. The economy was booming and he handed the reins of power to his preferred successor, Dilma Rousseff. He enjoyed enormous respect, with polls showing that 87 percent of Brazilian voters would have voted for him again if the constitution had not barred him from running for a third term.
In 2009, US President Barack Obama called him "the most popular politician on earth." Many thought he would become the future secretary-general of the United Nations.
In 2018, the 72-year-old is now staring at the ruins of his life's work. Brazil's Supreme Federal Court (STF) has ordered that the ex-president and founder of the Brazilian Workers' Party (PT) spend the end of his life in prison.
Read more: Brazil's ex-president Lula negotiating surrender with police
From shoeshine boy to president
His career path has been truly singular. Luiz Inacio Lula da Silva was born the son of poor farm workers in the municipality of Caetes in northeastern Brazil, on October 27, 1945.
When he was seven, his family moved to Sao Paulo, where he also worked to contribute to the family's income. In the 1970s, he became known nationally for his work as the leader of the Steel Workers' Union and as a resistance fighter against Brazil's military dictatorship (1964-1985).
In 1979, he was sentenced to one month in jail for leading strikes. And in 1980, he founded the PT.
Lula was unsuccessful in three consecutive presidential bids – 1989, 1994 and 1998 – before finally succeeding in 2002. By promising to maintain the economic policies of predecessor Fernando Henrique Cardoso, he shook off his radical-leftist image and won the support of the business community.
Lula's supporters were hoping that he would run for president again in 2018
Soy boom and social welfare programs
The plan worked. Lula won the presidential election on October 27, 2002, and took office on January 1, 2003. His "Fome Zero" (Zero Hunger) program helped small farmers, fed the poor and brought water reservoirs to historically dry regions.
His "Bolsa Familia" (Family Purse) program garnered international praise. The welfare program tied assistance for poor families to their children's attendance at school. Moreover, by enacting education reform, Lula also made college accessible to poor people.
More than 20 million people were lifted out of poverty as a direct result of social welfare programs created by the Lula government between 2003 and 2010.
Brazil's reputation throughout the world grew, as did support for the PT – especially among Brazil's poorer citizens. The global economic boom, and the demand for raw materials from Brazil that went with it, helped finance the PT's social welfare programs.
Yet it was not only Brazil's poor but rather the entirety of its population who profited from rising domestic demand and the country's building boom. The latter was fueled even more by two massive international sporting events, the 2014 World Cup and the 2016 Olympics in Rio de Janeiro.
Lula was riding a wave of success and was reelected with 61 percent of the vote in 2006. His popularity was so high that he was even able to help his preferred successor, Dilma Rousseff, to victory in 2010.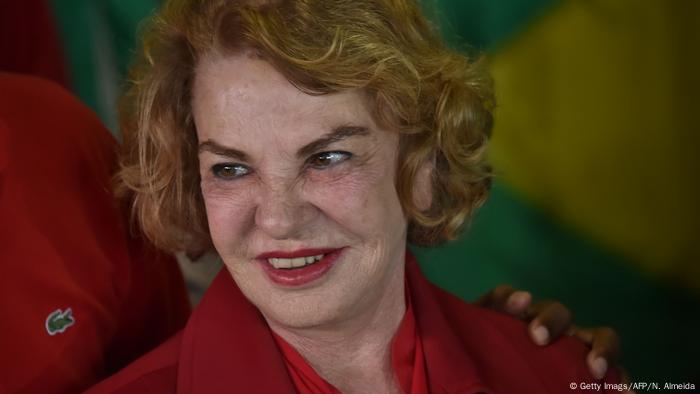 Lula's wife, Marisa Leticia Lula da Silva, died in 2017
Illness and corruption allegations
As ex-president, Lula devoted himself to maintaining his contacts and offering his skills as an advisor. Between 2011 and 2015, an institute founded by Lula received roughly €6.6 million ($8.1 million) from a number of different businesses for speaking fees alone. The powerful construction conglomerate Odebrecht also paid for a number of trips made by the former president.
Yet not everything was perfect. Lula suffered a series of personal and political setbacks shortly after he began his second term in office. In late October of 2011, doctors found a tumor in his larynx. He underwent chemotherapy and managed to beat his cancer. In 2017, his wife Marisa Leticia Rouco passed away, the two had been married for 43 years.
But Lula's political star had already begun to sink in 2014 when investigators launched Operation Lava Jato (Car Wash). This was prompted by the discovery of a multi-billion dollar bribery scandal involving the partially state-owned oil giant Petrobras. High-ranking PT politicians were also involved in the scandal and many of them were convicted. Then, in January 2018, the scandal finally caught up with Lula: A court of second instance in Porto Alegre found him guilty of corruption and money laundering.
Read more: Warrant issued to jail Brazil's ex-president Lula
The charismatic ex-president had planned on running for president once again in this October's election. Opinion polls show that two-thirds of Brazilians would vote for him. Lula's arrest has made him a political martyr for his supporters.