A racist online manifesto apparently written by Dylann Roof, using the alias "Last Rhodesian," was discovered on Saturday.
The website's title makes reference to Rhodesia, now the region known as Zimbabwe, which was ruled under a predominantly white government.
The website contained downloadable files including images of Roof, who has been charged with the murder of nine people killed during a shooting at a historical black church in Charleston, South Carolina.
"I have no choice. I am not in the position to, alone, go into the ghetto and fight," the racist manifesto stated.
In many of the images, Roof is seen wielding a gun and Confederate flag, which was flown by pro-slavery southern states during the American civil war.
"I chose Charleston because it is most historic in my state, and at one time had the highest ratio of black to whites in the country," the manifesto continued.
"We have no skinheads, no real KKK (Ku Klux Klan), no one doing anything but talking on the Internet. Well someone has to have the bravery to take it to the real world, and I guess that has to be me," the manifesto stated.
The FBI are conducting ongoing investigations into Roof's links to the website.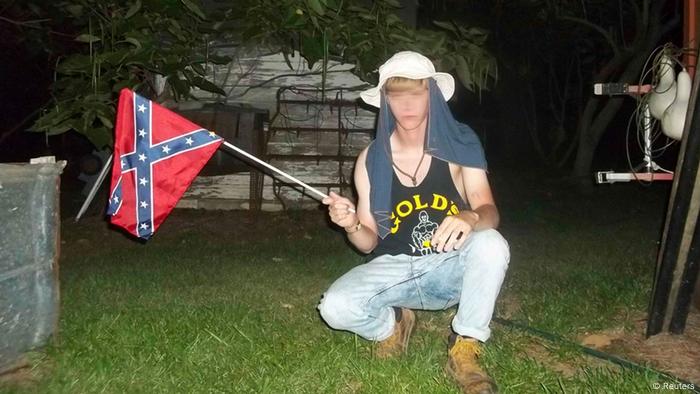 Images showing Dylann Roof holding a Confederate flag were discovered on the website
'Symbol of hate'
The Confederate flag, a contested symbol used by various groups to display southern heritage as well as white supremacist ideologies in the US, has become a focal point in the debate of institutionalized racism.
The flag, still flown at state institutions in South Carolina, was not moved to half-staff, despite the US and other state flags being lowered.
A petition on the liberal website MoveOn.org demanding the removal of "all Confederate flags from government places" has garnered more than 365,000 signatures since the shooting.
"Symbols of hate have no place in our government. The Confederate flag is not a symbol of southern pride but rather a symbol of rebellion and racism. On the heels of the brutal killing of nine black people in a South Carolina church by a racist terrorist, it's time to put that symbol…behind us," the petition stated.
The petition is addressed to the South Carolina state house, state senate and Governor Nikki Haley, who has called for Roof to face the death penalty.
In the past, Haley has defended the use of the Confederate flag at state institutions, most notably during a South Carolina gubernatorial debate shown on public service television channel C-SPAN in 2014.
ls/cmk (AFP, AP, Reuters, dpa)