Sitting in his house in the Bergisches Land region of western Germany, Johannes Wendeler looks at photos of his ordination at Cologne Cathedral in 1989.
"I was sure that I would live the rest of my life as a priest," said Wendeler.
The idea of falling in love never occurred to Wendeler. When he was ordained as a priest at the age of 30, he had never had a relationship with a woman. Wendeler says, because of this, celibacy seemed to him to be an acceptable lifestyle.
But that changed when, after working as a priest for seven years, he met physiotherapist Lydia Piechotta, following a car accident which left him with a broken hand. The two enjoyed the conversations they had during therapy sessions and became close friends. Soon after, they fell in love.
"We weren't searching, but still we still found each other," says Piechotta.
Life of celibacy
Of course, this was a big problem for Wendeler and Piechotta. How should they deal with this love, which is forbidden in the eyes of the Catholic Church?
"There were always whispers whenever we went out for a walk together," recalls Piechotta. "And we couldn't tell anyone that we were in love!"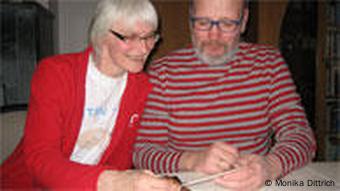 Piechotta met Wendeler after he had a car accident and needed therapy
The two did not want to live like this forever, and so after about a year, Wendeler told the Archbishop of Cologne. That same day, he was suspended from the priesthood.
Since the vow of celibacy for clergy is an iron law in the Roman Catholic Church, it is an absolute requirement for young men wishing to become ordained as priests. However, a life of celibacy cannot be regarded as a commandment from God, since it is not specifically called for in the Bible.
It was probably economic considerations which lay behind the decision to make celibacy obligatory in the 12th century; priests were thus unable to pass on church property to their descendants.
In the eyes of the Catholic Church, celibacy is seen as a gift and a symbol of God's closeness and faithfulness. A celibate priest can give himself completely to God and concentrate on pastoral care without disruptions from married life.
A group made up of Catholic priests and their wives has been fighting against celibacy in Germany for over 25 years. Members estimate that not even 50 percent of priests in the country stay celibate.
Willing to remain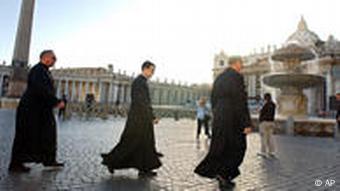 The church says celibacy allows priests to focus on God and pastoral care
Abandoning the ministry does not come into question for many priests, and there is also a fear of social fallout. Priests are not insured against unemployment and only have minimal pension rights. They also lack experience with the working world outside the church.
"As a result, many priests have kept their relationships and children hidden," says Wendeler.
He and his wife did not have to be so secretive. Wendeler has now been married for twelve years and today works for an employment agency. However, if the church were ever to drop its celibacy requirement, he says he would gladly don the robes once again.
"I always loved preaching and I enjoyed the preparations for Mass."
Author: Monika Dittrich (mk)
Editor: Susan Houlton