The United States is at least trying to bring some pressure to bear on Joseph Kabila's regime. Two weeks ago, it placed Kinshasa police chief Celestin Kanyama on its sanctions black list. US citizens are now no longer permitted to do business deals with him and any assets he might have on US territory have been frozen. The US Treasury said in statement the move sent "a clear message that the United States condemned the regime's violence and repressive actions, especially those of Celestin Kanyama."
Kanyama was responsible for police operations last year in which 40 people were killed in an anti-Kabila demonstration. But the sanctions are not just intended to hit Kanyama. As this is the first time that a close associate of Kabila has been blacklisted, they also contain a message for the DR Congo president himself. He is no longer considered a potential model African leader.
"Joseph Kabila and his government have not fulfilled the expectations that were placed in them both at home and abroad," Ingo Badoreck, DRC expert and General Secretary of the German Africa Foundation told DW.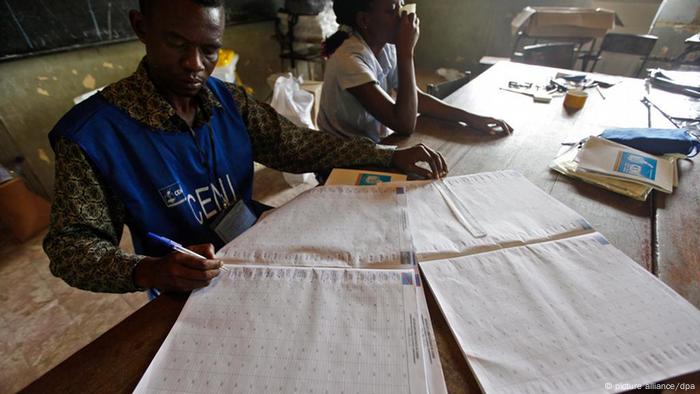 Joseph Kabila was reelected for a second term in 2011
Kabila's second term in office ends in December and that is when he should step down. However, no date has been set for elections to choose a successor. The opposition suspects Kabila is trying to prolong his stay in power by underhand means. In May, the Constitutional Court ruled that he could remain in office as caretaker president if elections cannot be held punctually. So far Kabila has not said whether he is seeking a third term in office, though many Congolese believe that this is what he intends to do.
Diplomacy, not sanctions
There is mounting tension in DR Congo but the international community appears unwilling to intervene. This is in marked contrast to 2006 when Joseph Kabila became president in the country's first free elections after decades of dictatorship. Some 2,000 European Union troops were on hand to guarantee that the poll, funded by the United Nations Development Program (UNDP), would be free and fair. Almost all Western leaders felt obliged to comment on the outcome.
In view of the seething discontent in DR Congo, many observers would like see the international community taking a renewed interest in the country. "The DR Congo has disappeared off Germany's horizon," said Dominic Johnson, expert on Africa with Germany's taz newspaper.
Perhaps not surprisingly, the German government disagrees and points out that the biggest UN mission in the world is stationed in DR Congo. "Germany supports DR Congo with approximately 260 million euros ($288 million) in development aid annually," Georg Schmidt, Africa Commissioner at the German Foreign Ministry, told DW.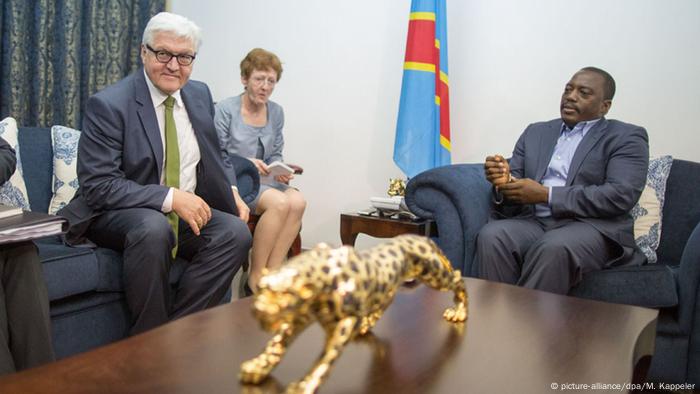 Joseph Kabila (right) reportedly told Frank Walter Steinmeier (left) he rejects 'outside interference'
Germany, like other EU countries, believes in the power of diplomacy when helping to resolve tensions in DR Congo. "We are trying to talk to both sides, we are supporting the African Union's mediators, so that dialogue can be set in motion," Schmidt said. That would appear to be the limit of European involvement. Sanctions are being discussed but experts consider it unlikely that they will be implemented.
But will diplomacy suffice? Western influence in DR Congo is dwindling. When German Foreign Minister Frank-Walter Steinmeier visited the country in 2015, Kabila is reported to have said to him that he cherishes cooperation with Germany, but he rejects outside interference. China and Russia are now Kabila's key partners because they are interested in the central African state's mineral resources.
European engagement in DR Congo is now far less intense than it was in 2006. "The global political climate has changed and I suspect that DR Congo's complex problems, despite a decade of concerted international assistance, will remain unresolved," said Badoreck, adding. "I think that one has almost arrived at the point where one says the Congolese should find a solution to their problems."