Andris Nelsons is a shooting star in the classical music scene. As the youngest conductor in the history of the Bayreuth Festival, the 31-year-old Latvian has reaped praise from critics across Germany and beyond. This fall, he will see premieres with two of the world's major orchestras - the Berlin and the Vienna Philharmonics. Deutsche Welle spoke with the conductor about his Bayreuth debut.
Deutsche Welle: How do you feel after your first performance this year in Bayreuth?
Andris Nelsons: I'm very excited because it's such a special place and atmosphere. It's a great pleasure to be here; everybody's motivation is just to make the best possible music.
But it's also quite difficult for a conductor in this orchestra pit. Achieving the right balance between the choir, the soloists and the orchestra is hard - especially when conducting pieces that weren't written for Bayreuth.
Have you always been steeped in Wager, or what path led you to his work?
Wagner was actually one of the first composers I got to know - the first opera I saw was "Tannhaeuser" when I was five years old. Ever since then, I've been listening to and analyzing his operas and been in love with his music.
I think starting with Wagner also opened my eyes for other composers. Approaching the philosophical and emotional components of Wagner's music helped me understand many other composers, including Beethoven. Since Wagner was the first I was introduced to, I viewed every other composer from a different perspective.
The young conductor already has an impressive list of engagements
It's been said that you're able to have a kind of empathy with each member of an orchestra. How would you describe the process of bringing together so many different elements when conducting?
That process is what's magical about being a conductor. You're dealing with orchestras and choirs composed of individuals who are each wonderful musicians and who each have their own ideas about how the music should be.
Everybody has an ego - in a good sense. You need an artistic ego to perform music, but you have to focus those egos toward one result.
When the members of an orchestra forget about the global result, it's dangerous, and that's a very real possibility in opera. It should be like a family, though - everyone has a very important place and part in the family. If some member of the family thinks someone else is more important, then it doesn't work.

That seems to relate to Wagner's intentions with Bayreuth - to have people focus on the music and not on themselves. Have you found the Bayreuth setting encourages that artistic ideal?
I agree that there is something special about this place both practically and theoretically. Wagner really is the only star here. For one thing, the audience can't even see the conductor in the orchestra pit, so there's no possibility of the conductor stealing the show.
That means the music starts without applause - it starts from scratch in a way. Everything is set up to be just about music.
There's a mystical quality to being here, which I experienced three years ago in the audience when I was invited to conduct "Lohengrin." Everyone comes to this mountain, and everyone is concentrated on the music. That's particular to Bayreuth, but I wish it were that way everywhere - that the composer would be the one put on the podium.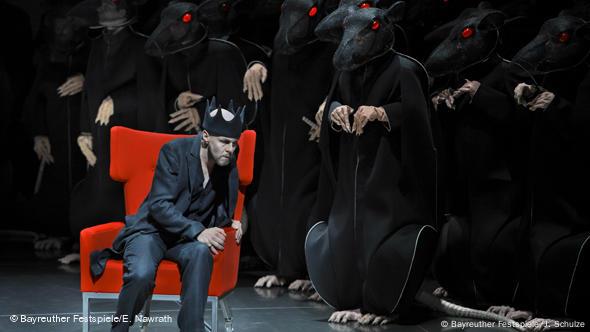 Nelsons conducted a new production of "Lohengrin" by Hans Neuenfels that was heavy on rodents
Where do think "Lohengrin" stands in Wagner's oeuvre - is it the point where Wagner comes into his own as a composer?
I think one notices that "Lohengrin" is still an early opera in the oeuvre. But Wagner is so clever, and you can feel from the work that he very consciously knows how to use his powers and to manipulate people in writing music. I think Act Two of "Lohengrin" contains one of Wagner's greatest masterpieces. There, he creates the atmosphere so dramatically, and you think, "Everything can be so beautiful in life, if you just make the right decisions." But then, you also know, "No, no, the ending won't be nice."
In Act Two of the opera, you know that the future could be so great, but Wagner knows it will never happen and shows that in the music. It's so sad and so beautiful at the same time.
Interview: Rick Fulker (gsw)
Editor: Kate Bowen