Volkswagen, Europe's biggest automaker by sales, and sports car manufacturer Porsche have put their planned merger on hold after more than a year of problems.
Both companies, however, remain optimistic about an eventual tie-up.
The boards of the two companies concluded that merger could not be completed within the planned time frame due to legal proceedings against Porsche in Germany and the United States for alleged market manipulation, VW said in a statement.
Spinning wheels
"The continuing legal hurdles mean that it is currently impossible to quantify the economic risks of a merger and therefore to perform the valuation of Porsche," the company said.
The Wolfsburg-based manufacturer added, however, that "all parties remain committed to the goal of creating an integrated automotive group with Porsche and are convinced that this will take place."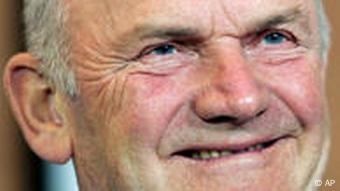 Ferdinand Piech is a powerful player in both the VW and Porsche camps
While industry observers expect Porsche to eventually become part of VW - the two companies are already intertwined - many now question the probability of a full-blown merger.
VW had hoped to integrate Porsche, maker of the popular 911 sports car, as its 10th brand before the end of the year in a bold move to overtake Toyota as the world's biggest carmaker by 2018.
Backfired plan
The merger plans, however, stalled over lawsuits lodged by Porsche investors for allegedly causing them to suffer several billion dollars in losses as a result of misleading comments on the sports car's intentions to take over VW.
In October 2008, Porsche stunned the manufacturing world when it announced plans to acquire 75 percent of VW. The move backfired, however, leaving the luxury carmaker with more than 10 billion euros of debt.
In 2009, Porsche and VW agreed to end their bitter feud by merging.
The wealthy Piech and Porsche families are the dominant players in both companies.
Author: John Blau (AFP, Reuters)
Editor: Matt Hermann