Authorities said the violence began late Saturday when a group of two to three hundred rioters broke away from an otherwise peaceful demonstration in the southern Italian city of Naples.
Police used tear gas and water cannons against the group, who were wearing black hoods and were armed with Molotov cocktails, rocks and bottles, according to reports.
The protests were sparked by Northern League chief Matteo Salvini's first major rally in the city.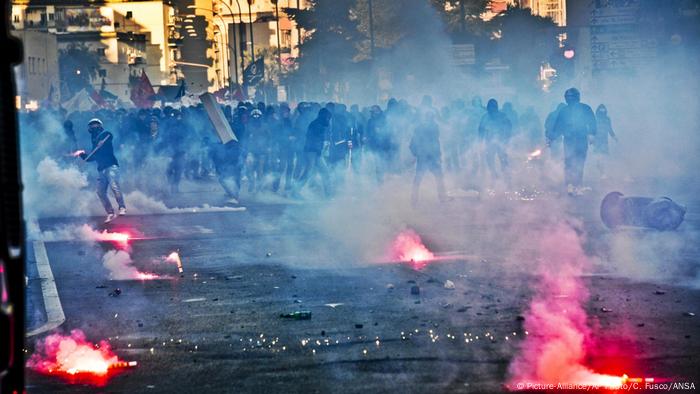 The League, which has its roots in Italy's affluent north, has sought to expand its support southwards in recent years by capitalizing on growing anti-immigrant sentiment and populism.
"I want to go to Naples' periphery where life is real, unlike that of posh neighborhoods," Salvini told supporters during the rally.
He also trumpeted his nationalist "Made in Italy" platform, attacked the European Union and praised Russia's efforts to crackdown on the self-styled "Islamic State" (IS) terrorist group.
"If (Russian President Vladimir) Putin hadn't intervened, ISIS would be in Naples," he said, using another acronym for "IS."
Salvini, who has a history of anti-southern rhetoric, took over the leadership of the Northern League in 2013 and plans to run for prime minister in Italy's 2018 general elections.
nm/jm (AP, Reuters)