Violence reignited in Athens for an eighth day, with protestors firebombing a police station just moments after a peaceful vigil held in honor of a teenage boy killed in a police shooting.
The latest unrest followed a candlelit vigil in front of parliament marking a week since 15-year-old Alexandros Grigoropoulos was shot dead by police on Dec. 6 in the Exarchia district of central Athens.
Police used tear gas late Saturday on some 100 hooded youths who firebombed the station near Athen's Exarchia district where Grigoropoulos was shot.
Earlier Saturday evening, youths rampaged in the northern city of Thessaloniki, vandalizing a gymnasium and causing extensive damage to businesses.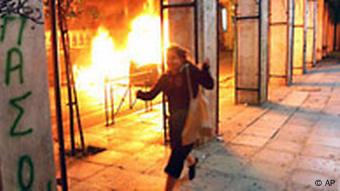 Riots this week were the worst Greece has seen in decades
The riots have been Greece's worst in decades, destroying hundreds of shops, banks, buildings and cars in more than eight cities including the capital Athens and the port cities of Thessaloniki and Patras.
Gangs of youths and self-styled anarchists have been smashing windows, looting shops and setting up flaming barricades in streets across the country.
Underlying discontent
Though the violence is tied to the shooting of Grigoropoulos, students have also been protesting economic and education reforms. Unemployment rates are particularly high among the 15 to 24-year-old age group and economic malaise is strong.
The protests have united both mainstream and radical youths and the opposition Socialists have seized the opportunity to press for fresh elections.
Saturday's violence came after Greek Prime Minister Costas Karamanlis had dismissed calls to resign.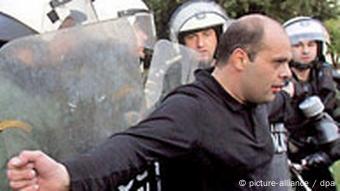 Not all protests in Greece were violent
"At this time the country faces a serious financial crisis … a steady hand on the helm is needed to deal with it," he said from an EU summit in Brussels.
Peaceful contrast
In contrast to the week of violence, thousands gathered in peaceful demonstrations Saturday across Greece, with hundreds of candles illuminating in a peaceful sit-down demonstration in Synatagma Square outside the Greek Parliament.
The city center appeared to return to normal, with shops open and cafes filled with customers.
City workers even began decorating the main Syntagma Square for the upcoming holidays, after a massive tree and Christmas village were damaged and torched by rioters.
The police officer who shot Grigoropoulos has said the boy was killed by accident when the bullet ricocheted and hit him. A final ballistics report has not yet been released.