Shootings and bomb and grenade attacks during the general elections in the Philippines have killed at least 10 people.
Early on Monday morning a handful of people died as they became caught up in clashes between the police and supporters of a governor running in the elections in the southern province of Zamboanga. In the province North Cotabato on the island Mindanao, the vice governor's cousin was shot.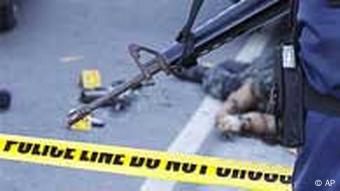 In Bacoor town, a Marine and a candidate's bodyguard were killed in a clash
It is believed the culprits were supporters of an opposition candidate. Others were killed in shootings in Maguindanao province, the same province in which nearly 60 people were killed last November in a politically motivated massacre.
First automated polls
These were the first automated elections in the Philippines. Machines were introduced this time in order to avoid fraud in the vote counting process. However, due to technical problems, the election commission had to keep the polling stations open an hour longer than originally planned.
Among the locations that experienced technical difficulties with the voting machines was Tarlac City, around 75 kilometers south of Manila. Hundreds of voters had to wait outside in the blazing sun, while the machines were being repaired. Among those who had to wait to cast a vote was the frontrunner to win the presidency according to opinion polls, Benigno "Noynoy" Aquino.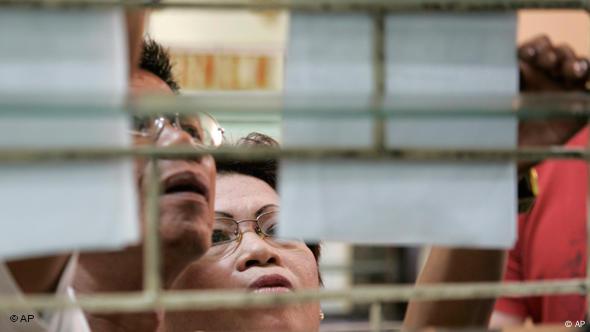 Voters check their names outside a voting precinct in San Juan
Patience required
Gregorio Larrazabal from the election commission, COMELEC, said despite all the technical problems, the outcome will be none other than a democratic election; and if worse came to worst, the ballots could always be counted by hand.
"We are advising the voters to be a bit patient," he said. "What is important is you will be processed, you will be able to vote, your vote will be counted."
Around 50 million people eligible to vote had been called to the polls to cast their votes not only for a new president and vice president, but also for 12 senators, nearly 300 Congress representatives and around 17,000 officials and lawmakers on provincial and municipal levels.
Aside from the state of the economy, fighting poverty and wide-spread corruption were main topics in this election.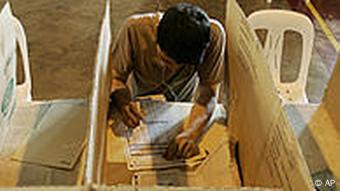 Voting in suburban Quezon City, north of Manila
Filipinos want new beginning
Filipinos are looking for a new beginning after Gloria Arroyo's almost ten years as president.
"I prayed for peaceful elections so that our country can get on," said one voter. "People are fed up with the rigging that has always surrounded previous elections."
The election commission is expecting to present the results within 48 hours after polling stations close. But this could take a lot longer should the ballots have to be counted by hand.
Author: Bernd Musch-Borowska / sb
Editor: Thomas Baerthlein