Colombian veterinarian Andres Lopez Elorza pleaded not guilty Tuesday to charges that he turned puppies into drug mules by stitching packets of liquid heroin into their abdomens.
He gave his plea in a New York City Court after having been extradited Monday from Spain, where he was arrested in 2015 on an American warrant.
US officials said he was part of a barbaric scheme based in Colombia between September 2004 and January 2005 that turned an unknown number of puppies and dogs into drug couriers for cartels.
Abusing surgical skills to smuggle heroin
Lopez Elorza, also known as Lopez Elorez, is accused of having used his surgical skills to implant the heroin packets in the dogs. Officials believe the animals were then put on commercial flights to New York, where the drugs would be cut out of them. Investigators believe the dogs would have died in the process.
"As alleged in the indictment, Elorez is not only a drug trafficker, he also betrayed a veterinarian's pledge to prevent animal suffering when he used his surgical skills in a cruel scheme to smuggle heroin in the abdomens of puppies," US Attorney Richard P Donoghue said.
"Dogs are man's best friend and, as the defendant is about to learn, we are drug dealers' worst enemy," the attorney added.
Read more: German man pretends his dog is a sheep to save taxes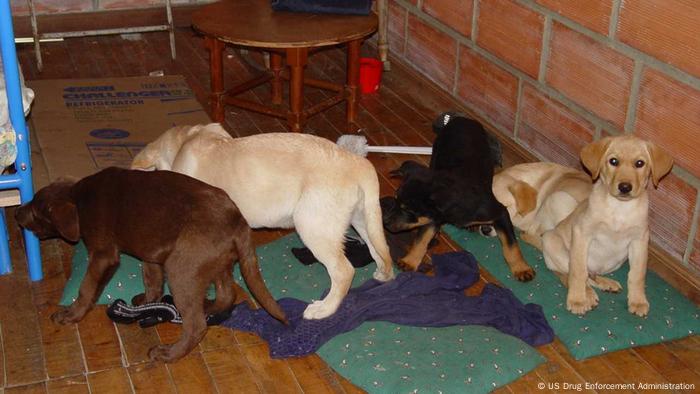 In 2005, authorities rescued puppies from a farm in Colombia that was being used in drug smuggling schemes
'Inhumane callousness'
Lopez Elorza became a fugitive in 2005 after authorities arrested around two dozen suspected traffickers in Colombia.
That year, 10 puppies were found during a investigative raid on a farm in Colombia. Three of the discovered puppies were found to contain drugs, EFE reported. According to The Associated Press, three died from infection, five ran away and two were adopted, including one that became a drug-sniffing dog for Colombian police.
"Over time, drug organizations' unquenchable thirst for profit leads them to do unthinkable crimes like using innocent puppies for drug concealment," said James Hunt, the head of the New York Office of the US Drug Enforcement Administration (DEA).
Hunt described the drug trafficking scheme as one of "inhumane callousness."
Nine other individuals were accused of taking part in the puppy drug smuggling scheme. They were all sentenced between 2007 and 2009.
The vet has been held without bail. He will stand trial for conspiracy to export and distribute drugs in the US. If convicted, the 38-year-old faces a mandatory minimum sentence of 10 years in jail, and possibly life in prison.
Lopez Elorza was born in Colombia, but has Venezuelan citizenship. His lawyer refused to comment on Tuesday.
cmb/cmk (AFP, EFE, dpa, AP)
Each evening at 1830 UTC, DW's editors send out a selection of the day's hard news and quality feature journalism. You can sign up to receive it directly here.