A trial in the biggest art forgery scandal in post-war Germany came to a close Thursday, with three of the four defendants receiving prison sentences.
Head of the forgery ring and painter Wolfgang Beltracchi (60) was sentenced to six years, his wife Helene (53) to four years, and accomplice Otto S. to five years. A fourth defendant, Helene's sister, received one year and nine months parole.

The sentencing proved relatively mild due to a deal the defendants struck with the state for their confessions, helping them avoid the maximum nine-year sentence.

Since becoming active in the art market at least 10 years ago, the forgers were able to collect around 16 million euros ($22 million) from galleries, auction houses and private art collectors. The fakes centered around major early 20th-century avant-garde painters like Max Ernst, Max Pechstein and Heinrich Campendonk.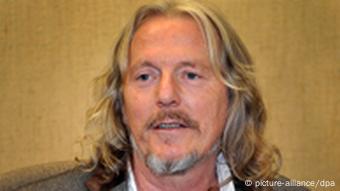 Wolfgang Beltracchi headed the art forgery ring and received a six-year sentence
The trial concerned 14 verified counterfeits, including "La Foret (2)" by Max Ernst, originally sold to a Parisian gallery for 1.7 million euros in 2004, and "Red Picture with Horses" by Heinrich Campendonk, auctioned in 2006 for 2.9 million euros. Police investigations into more than 40 other forgery claims have been halted following the sentencing.

The fraudulent but convincing and carefully researched works were verified as authentic by experts unaffiliated with the four forgers, allowing the paintings to slip into the international art market.

Author: Greg Wiser (dpa, AFP)
Editor: Kate Bowen