Two American sailors and their dogs have been rescued after spending five months at sea, the US Navy announced on Thursday.
Jennifer Appel, Tasha Fuiaba and their two canines launched out from Hawaii this spring. They planned to travel some 2,000 miles (3,200 kilometers) south of Tahiti aboard a small sailboat.
Their engine broke down on May 30 during bad weather, but they thought they could continue to Tahiti using the wind.
They were rescued by a US Navy ship some 900 miles southeast of Japan after a Taiwanese fishing vessel informed the US Coast Guard in Guam.
Video footage released by the US Navy shows one of the joyous sailors blowing kisses at the rescue ship, with two brown dogs wearing life jackets barking on the sailboat deck.
'Pot of gold'
In a telephone interview with DW from aboard the USS Ashland, Jennifer Appel told of their fears and hopes while at sea.
"I don't know of any person who could spend five months in the Pacific Ocean and not wonder if today is going to be the day it all ends, or if you are going to have a great day and there is going to be a rainbow with a pot of gold tomorrow," she said.
She also described their unwanted meetings with sharks.
"We had two different encounters: one close to the equator at 160 degrees west, a group of five tiger sharks who were teaching their young to hunt; and then a second encounter a little bit more north and west of that with a group of 40- to 50-foot sharks, who just really wanted to break open the boat and eat what was inside," she said.
She said the boat had remained undamaged during both encounters.
'Gratifying and humbling'
Appel also said catching sight of the ship that was going to rescue them was one of the greatest moments in her life.
"The moment we saw the USS Ashland on the horizon we started cheering. It was one of the most gratifying and humbling experiences of my entire life," she said.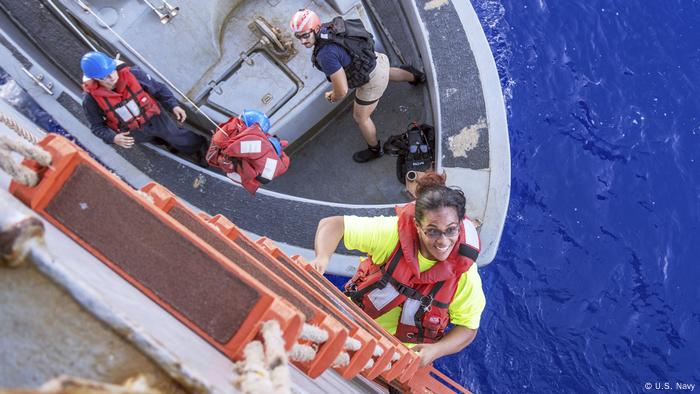 Tasha Fuiaba's joy is evident as she climbs the ladder onto the USS Ashland
The dogs, however, seemed to have rather enjoyed the whole experience, Appel said.
"They loved the ocean. They found that there was life living around the boat, and whenever the dolphins would come by they would bark and play and run around the boat, when the dolphins would bounce out of the water and chirp at them. That was their absolute favorite experiences on the boat. "
She also said that the five months on the boat had given them time to practice Japanese, and learn about the various Micronesian islands they might end up on depending on currents.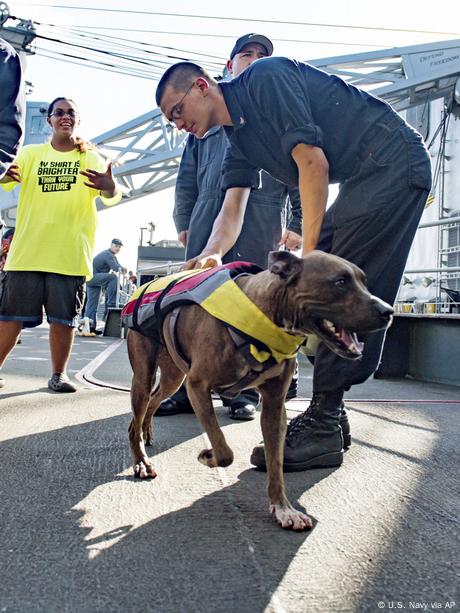 After months of rice, pasta and oatmeal, the canines were likely looking forward to a change of diet
Distress calls
In a statement, the US Navy said the sailors' calls for help had gone unheard.
"Two months into their journey and long past when they originally estimated they would reach Tahiti, they began to issue distress calls. The two continued the calls daily, but they were not close enough to other vessels or shore stations to receive them," the US Navy said.
Appel said they had survived months at sea by having water purifiers and a year's worth of mostly dry food.
All those onboard appeared to be healthy.
tj/rc (AFP, AP)