The proposed $85 billion (€72 billion) merger of telecommunications company AT&T and communications powerhouse Time Warner will head to the courts after the United States Department of Justice filed an antitrust lawsuit on Monday.
The deal, announced more than a year ago, would combine content of Time Warner units like premium cable channel HBO and news channel CNN with the massive internet and pay TV delivery networks of AT&T.
"This merger would greatly harm American consumers," said Assistant Attorney General Makan Delrahim, who is the head of the department's antitrust division. He added that AT&T, with its DirecTV satellite operations and Time Warner's content, "would have the incentive and ability to charge more for Time Warner's popular networks and take other actions to discourage future competitors from entering the marketplace altogether."
"It would mean higher monthly television bills and fewer of the new, emerging innovative options that consumers are beginning to enjoy."
Read more
- Trump, Clinton camps wary of AT&T, Time Warner merger
- Luxury TV maker Loewe files for insolvency
No precedent
Randall Stephenson, AT&T's chairman and chief executive, said in a company statement that the move by the Justice Department and its antitrust enforcers are ignoring "decades of legal precedent."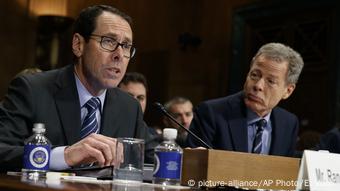 AT&T's Stephenson (left) insists the US Justice Department is going against legal precedent
AT&T said it plans to challenge the lawsuit, maintaining that the merger was "vertical" as it and Time Warner were not direct competitors and would not remove competitors from the market. It also said the merger would make content cheaper for consumers as they would not need to sign up for expensive television bundles.
Many expected the government to approve the deal based on the recent merger of cable giant Comcast and entertainment group NBCUniversal, which was also seen as a "vertical" merger.
"We see no legitimate reason for our merger to be treated differently," AT&T said.
Politically motivated?
As a candidate, US President Donald Trump said he would block the AT&T/Time Warner merger because it concentrated too much "power in the hands of too few."
But according to US media reports, the Department of Justice was willing to let the merger go through if AT&T agreed to sell either Turner — the parent company of CNN and other networks — or DirecTV.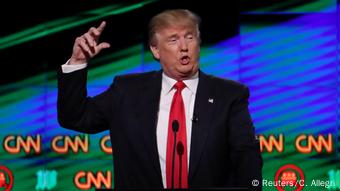 Reports suggest the Trump administration wanted AT&T to divest itself of CNN
Trump has continually criticized CNN for its coverage of him and his administration, disparaging the news network and its reporters as "fake news."
"I do feel that you should have as many news outlets as you can, especially since so many of them are fake," Trump said earlier this month when asked about reports his administration wanted AT&T to divest itself of CNN.
Stephenson said earlier this month that he would not sell "key franchises" to get a deal done.
Consumers Union, an advocacy group that opposes the deal, praised the Justice Department for the lawsuit. It said there were "legitimate reasons" to block the merger to protect consumers, even though "reports of political pressures regarding this deal are concerning."
dv/cmk (AFP, AP, dpa)