The US Food and Drug Administration (FDA) has approved the first prescription drug to restore sexual desire in women, though it stressed that the pill should only be sold via certified professionals and pharmacies.
The FDA stipulated that the drug's label must include a warning alerting doctors and patients to the risks of dangerously low blood pressure and fainting, especially when the pill is combined with alcohol. The FDA said patients who did not experience any improvement after eight weeks should stop taking the drug.
Announcing its approval late on Tuesday in Washington, FDA drug center director Dr. Janet Woodcock said patients and prescribers "should fully understand the risks" before considering treatment.
The pill, marketed as Addyi by its developer Sprout Pharmaceuticals and known generically as flibanserin, acts on brain chemicals affecting mood and appetite. By contrast, erectile dysfunction drug Viagra boosts blood flow to a man's genitals.
Previous experimental drugs for women intended to act on blood flow and hormones proved ineffective, and clearance for Addyi was twice withheld by the FDA - in 2010 and 2013.
Flibanserin was originally developed by Germany's Boehringer Ingelheim.
Lobbying won through: critics
Opponents, including sex therapist Leonore Tiefer, who was behind a petition calling on the FDA to again reject the drug, said the agency was pressured into approving the pill in a lobbying campaign by pharmaceutical makers.
"It's just a mishmash of politics and science and sex and money," said Tiefer.
The lobbying campaign, dubbed Even the Score, had publicized the lack of drugs for female sexual dysfunction as a women's rights issue.
At an FDA meeting in June, FDA advisers backed the drug with 18 votes for and six against. The FDA subsequently followed the panel's advice, although it is not required to do so.
'Breakthrough moment'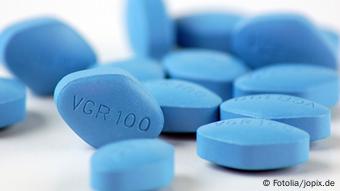 Viagra, the pill for erectile dysfunction in men, has generated billions of dollars in sales
Sprout Pharmaceuticals CEO Cindy Whitehead described the approval as a "breakthrough moment" after a long bid.
"Today, we celebrate what this approval means for all women who have long awaited a medical treatment option for this life impacting condition, " she said.
Female sexual dysfunction - a diagnosis which is not universally accepted - is said to affect up to 14 percent of women in the United States, aged 20 to 49.
Dr. Cheryl Iglesia, a surgeon and official with the American Congress of Obstetricians and Gynecologists, said women had long been "grasping" for a treatment that made them feel "safe and comfortable."
The Viagra pill for erectile dysfunction in men was approved in 1998 and has gone on to generate billions of dollars in sales.
ipj/cmk (Reuters, AP, AFP)