Philip Murphy, ambassador for the United States in Berlin, rejected on Saturday criticism that he has failed in his handling of the WikiLeaks scandal.
He told German daily Hamburger Abendblatt in an interview published on Saturday that demands for his recall were "unfounded."
"It's up to the United States government to decide how to protect its interests in Germany in the face of [the WikiLeaks publication]," Murphy said, adding "but I'm not going anywhere."
A government spokesman said late on Friday that Berlin had no intention of recalling Murphy over the affair, adding that such an action would be unjustified.
Embarrassing revelations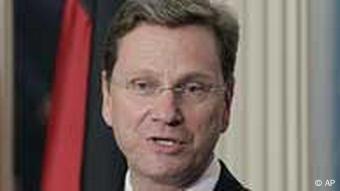 Murphy described Westerwelle as "a wild card" and" short on substance"
In the leaked documents, released to the public by WikiLeaks last Sunday, Murphy was quoted making critical remarks about German Foreign Minister Guido Westerwelle, calling him "short on substance" and "a wild card."
It was also brought to light that Murphy gained information at closed-door coalition talks in 2009 from an informant belonging to Merkel's junior coalition partner, the Free Democrats (FDP).
The informant was 41-year-old Helmut Metzner, whom Murphy described as an "up-and-coming [FPD] loyalist" who related the sensitive information from notes he had taken during the talks.
Consequences 'exaggerated'
Several senior German politicians have questioned Murphy's handling of the diplomatic faux pas. Hans-Michael Goldmann, also of the FDP, pointed out that Murphy has yet to apologize to the German parliament for the embarrassing comments he made.
Though angered by the publication of the documents, Murphy dismissed the affair as something that would soon blow over.
"In the short term, we are in a very difficult situation," he conceded to the Hamburger Abendblatt.
"But with regard to any lasting consequences, this affair is being completely exaggerated. Several people were hurt by the statements that were released, but we have to return to our work - and I've already begun to do this."
Author: Gabriel Borrud (AFP, dpa)
Editor: Martin Kuebler