Civil disobedience is on the rise in the small Central American nation of Guatemala. For four weeks now, thousands of people have been demonstrating each weekend, calling for the resignation of President Otto Perez Molina. The 65-year-old former general is accused of being involved in a customs corruption scheme said to have defrauded the state of millions of dollars.
"Allegations of corruption are nothing new for the people of Guatemala. What's new is the evidence," said Sabine Kurtenbach of the GIGA Institute in Hamburg. "What's also new is that people across all social strata are taking to the streets. Young and old, the urban middle class and the indigenous people."
Mass protests in Brazil, teacher strikes in Mexico, student demos in Chile, the uprising of small farmers in Colombia, and now Guatemala: All of Central and South America seem to want to chase their governments out of office. Many people in the region are intent on showing their anger over corruption, crime and incompetence.
"People are out of patience. They've had enough empty promises," said Julio Ligorria Carballido, Guatemala's ambassador in the United States, in the Latin American edition of the newspaper "El Pais." People are demanding that their elected representatives be held accountable for the lack of functioning state systems, such as healthcare and education.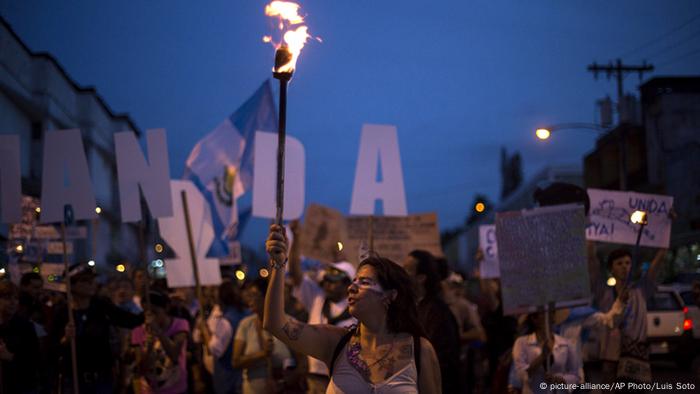 Guatemalans have been protesting against corruption and mismanagement for four months
In the grip of corruption
According to the World Bank, Guatemala is the country with the lowest tax revenue in relation to its GDP in the world. Social programs to fight the poverty that affects more than half of the country's 16 million people are chronically underfunded.
Pressure is mounting on Guatemalan President Perez Molina. After the arrest of Vice President Roxana Baldetti on August 21, the country's powerful chamber of commerce CACIF is now demanding his resignation. Two of his cabinet members have already stepped down.
Dealings with the underworld
According to a report by the UN Commission against Impunity in Guatemala (CICIG), three-quarters of all the nation's politicians have financed their election campaigns with money from organized crime. The report says that parties can sell government posts for anywhere between $5,000 and 10,000 (4,300 and 8,700 euros), turning authorities into marketplaces for illegal activities.
Guatemalan President Otto Perez Molina
But despite the uproar over the past few weeks, Kurtenbach doesn't think we're witnessing the start of a revolution. Rather, developments seem to evoke a Latin American political thriller.
"The problem is that there is no organization behind these mass anti-government protests," she said. "It's easy to be against something. But the question that no one has yet been able to answer is: What are the demonstrators for?"
Hoping for alliances
Even if there is no lack of candidates for the upcoming presidential election on September 6, the usual suspects haven't been able to convince the population that they can bring real change. The candidate leading the polls is Manuel Antonio Baldizon Mendez of Lider, the party for democratic renewal. But even he is considered to be part of the corrupt establishment.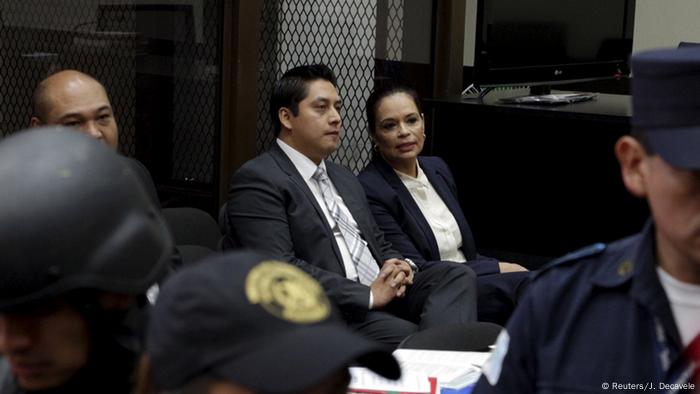 Guatemalan Vice President Roxana Baldetti appears before court
Kurtenbach says there's only one way out of the morass: "CACIF needs to understand that a free market economy also needs a functioning democracy and social equality."
Only if alliances form between reform-oriented forces in business, society and politics will there be chance of real change in the country, says Kurtenbach. These alliances would have to exclude both those who would block reforms, as well as those with ties to organized crime.