German national rail operator Detusche Bahn (DB) and the GDL train drivers' union on Wednesday agreed to return to arbitration talks, with GDL halting its open-ended strike and agreeing not to down tools until the new talks come to a close.
Industrial action by the GDL had led to repeated disruptions on German railroads over the past 12 months, with nine separate strikes in the period, including the longest in Deutsche Bahn's 21-year history. The Bahn estimates its daily costs incurred by such strikes at 10 million euros ($11.1 million), while the Federation of German Industries (BDI) put total daily costs to the country at 100 million euros.
The current strike action was set to conclude at 7 p.m. local time (17:00 UTC) on Thursday, May 21; Deutsche Bahn said normal service would be restored by the end of the week.
DB personnel chief Ulrich Weber cautioned that the agreement to take the matter to mediation was "still not a final breakthrough" in the year-long dispute over pay, working hours, and the rights of trade unions competing with one another for influence.
The mediation period was scheduled for May 27 through June 17. The GDL's boss Claus Weslesky said that he was confident of finding a "compromise solution" that would be "acceptable to both sides."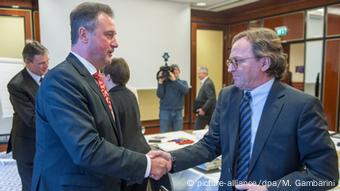 Industrial action ends, mediation starts: Weber and Weselsky seem to have their work cut out
Deutsche Bahn mediator Matthias Platzeck of the centre-left Social Democratic Party (SPD) and a former state premier of Brandenburg said that an acceptable solution for both parties would still need to be worked out.
"In my view, it has to be sustainable for the company, allowing further developments to take place," he said. "But employees have to come out of this with decent conditions in terms of remuneration, work, shifts, and overtime pay."
The GDL meanwhile picked Thuringia's state premier Bodo Ramelow, a senior member of Germany's far-left party, Die Linke, to represent its concerns during the mediation process. Ramelow has been critical in the past of Deutsche Bahn's handling of its lengthy dispute with GDL.
Ramelow is also a critic of proposed legislation from Chancellor Merkel's grand coalition government, which seeks to limit the influence of smaller trade unions like the GDL. The rule, if cleared in parliament on Friday as expected, would force competing unions to negotiate together and avoid inconsistencies in the salary deals they reach with major employers. In instances when rival unions cannot agree to this, the deals struck by the larger unions would generally take precedence.
In the case of Deutsche Bahn, rival union EVG with its 200,000-strong membership base, is roughly ten times larger than the GDL.
The EVG union has also been in dispute with Deutsche Bahn, and is hoping to strike a deal with DB overnight, ahead of the parliamentary vote. EVG is yet to call a single strike in this dispute, but union officials said that this would change if the late-night talks failed.
"We will have to strike if no deal is reached," EVG chief Alexander Kirchner said.
msh,ss/rc (dpa, Reuters)