"Jogi" is an apt nickname for a football coach with the temperament of a yoga instructor. Joachim Loew, the head coach of the German national team, is calm and composed, seldom rattled.
Loew is rarely anything but in complete control of himself. Just one example to the contrary comes to mind - when Germany played Austria in the final group game of Euro 2008. Both Loew and his counterpart, Josef Hickersberger, were sent to the stands and received one game touchline bans. But even then, their crime was leaving their technical areas too frequently.
Loew knows his own mind, and is tight-lipped about his personal life. He was born 50 years ago in the Black Forest, and is married. He enjoys holidaying in Italy, and Italian food. He's notably well-dressed, neatly coiffed, and the star of an advertising campaign for a popular brand of moisturizer for men.
Working his way to the top
To know Loew better, one has to look at his career in soccer. Loew's playing career was spent mostly with SC Freiburg in the second division. Although he made four appearances for his country's under-21s, the midfielder was never really able to make the grade during short spells in the Bundesliga. Loew began a coaching career while still active as a player in Switzerland.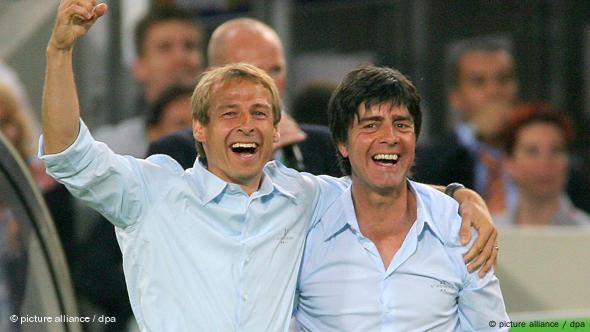 Klinsmann chose Loew as his right-hand-man for the 2006 World Cup
After graduating from assistant to head coach at Stuttgart, he won the 1997 German Cup at the end of his first season. He later managed in Turkey, German lower leagues and Austria, where he won the league title with Tirol Innsbruck in 2002, but was fired from most of his jobs before his contract was up.
The call in 2004 from Jurgen Klinsmann, the new coach of the German national team, came as a surprise. Loew was the tactician, the brains behind Klinsmann's man-managing skills, and the combination drove Germany to a third-place finish at the side's home World Cup in 2006. An outpouring of national sentiment behind the team was focused mainly on Klinsmann, but a certain amount rubbed off on Loew.
When Klinsmann stepped down after the tournament, his assistant stepped up. "I believe we have a generation of players who can be a golden generation," Loew declared shortly afterwards. A second-place finish at Euro 2008, one in which Germany were beaten in the final by an imperious Spain, was more than a fair start.
Headed off course?
More recently, things have started to go less smoothly. Loew's tendency to publicly rule players out of his thoughts, while giving guarantees to under-performing favorites, has been criticized.
Veteran midfielder Torsten Frings, who had been critical of Loew in the past, was told he would not be considered for the World Cup, and Loew has stuck to his word. Kevin Kuranyi, who was told he would never play for the national team again after a disciplinary bust-up in October 2008, scored 18 goals for Schalke in the Bundesliga last season, but didn't make Loew's provisional squad. Meanwhile, Lukas Podolski and Miroslav Klose - who didn't score ten goals between them last season - were chosen instead.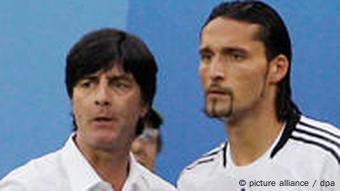 Kevin Kuranyi has been frozen out by Loew
But questioning the national coach's selection decisions is what being a football fan is all about. Where the German public's affection for Loew really evaporated was over disputes about the renewal of his contract. Germany made typical light work of qualifying for the FIFA World Cup 2010 and after their place in South Africa was confirmed German Football Association (DFB) President Theo Zwanziger announced that contract extensions for Loew and team manager Oliver Bierhoff were imminent.
Zwanziger even said that Loew had verbally agreed to terms, but Loew denied this in the press. The DFB then leaked to the papers Loew and Bierhoff's set of demands - for higher wages and more organizational power - which many saw as excessive. The pair's supposed greed became a popular talking-point.
Officially, the issue has been put on the back burner until after the World Cup. But it's unlikely that Loew enjoyed its having been played out in public, and contract shadows will soon start to loom over the German campaign if they get off to anything but a perfect start. For Loew to take strong bargaining chips to the DFB table, as well as heal the rift with German fans, a repeat of 2006's third place is required. The no.2-turned-no.1 knows that's a tough ask, although he probably won't be saying it out loud.
Author: Sarah Faupel / tms
Editor: Matt Hermann