DW: Dr. Nabarro, what's the situation as you see it now? Worse, better or stable?
David Nabarro: We see that in some parts of the [West African] region, the response is starting to have an impact. I want to stress: it's starting to have an impact. In other parts of the region, the outbreak is continuing to expand rapidly.
It's a very uneven situation. This implies to me that we must maintain the response at very high level until we see all [regions] beginning to come under control, and then move to a situation where the transition is stopped completely - which I think will happen sometime next year.
We have heard some success stories - if we can call them that - Nigeria, for instance. And at the same time we've had the first fatal case in Mali. Was it too soon to be congratulating Nigeria for becoming Ebola-free? We haven't got this thing under control yet, have we?
This is a large geographical area affected by the outbreak. And we have to recognize that as with any disease outbreaks, the situation - when looked at against the geography - is going to be uneven.
Yes, Nigeria was successful, and that was great. But there are still parts of Liberia where the outbreak is advancing rapidly, and the same with Guinea and Sierra Leone. That uneven picture is important; it means we're on our way. But we've got such a long way to go.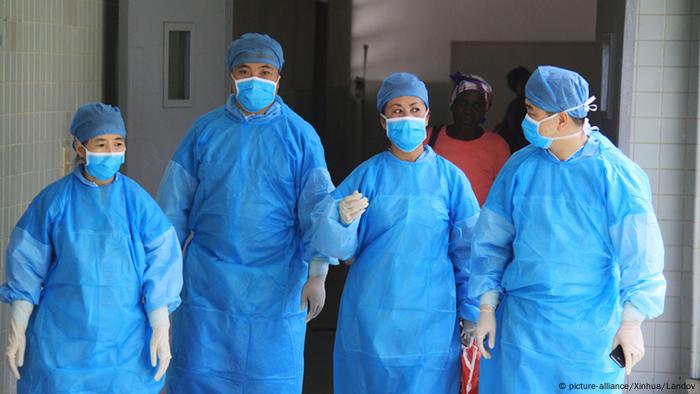 Much of the international response has focused on protecting healthcare workers
But speaking of geography, is it possible that the UN, WHO and others underestimated the geographical aspect? I'm thinking in particular of a comment made by the WHO's Gregory Hartl in which he said early on [paraphrased]: Let's not overplay this issue, it's a very limited geographical area. And then, there was no response.
I don't want to comment on what individual people have said at different times, because that is not my role. All I can say, in the position I hold, is that diseases sometimes have a horrible habit of going underground. And we have to be eternally vigilant and never declare success until success has truly been achieved. When you're in the middle of an outbreak, be very careful before you say, "this is under control." At the moment, we're not saying that.
But what people have said in the past influences your job as special envoy now. And so we have people like the WHO's Isabelle Nuttall, who has said words to the effect of: We didn't know Ebola was possible in this part of the world. And that was used to explain the slow international response. Even former UN Secretary-General Kofi Annan, a man who has his own history with slow responses [as head of UN Peacekeeping, Annan's office was accused of ignoring warnings over the Rwandan genocide in 1994], has said the current situation is regrettable. That surely has left you with a very difficult job.
Everyone who's working on disease outbreaks knows how hard it is to get the communications absolutely correct, and how often things you say at one point are interpreted differently as time advances. So at this present situation, all I would like to say is, we're dealing with a really difficult outbreak that has developed some very challenging features, and it is important that everybody, everywhere, continues to work with maximum energy and maximum efficiency until it is under control.
When that has happened, then we can get the history books out and start writing them and identify different situations that have occurred. But this is not the time for any retrospective analysis. This is the time for looking forward with maximum energy, and all the agencies you've mentioned are working flat out to try to get this situation under control.
So let's look at some of the things that have to happen right now. Medecins Sans Frontieres is saying there are still "critical gaps" in infection control and contact tracing. Where do you see the priorities?
There are four essential features of the response. One, identify cases and the contacts of those cases, so that we know who is infected and where they are to help them stay in treatment, and to make sure people who are in touch with them remain under surveillance. Two, make sure the treatment is good, so that if you come into a treatment center, you've got the best possible chance of survival. Three, mobilize communities so they understand the disease and are able to take action themselves. And four, make sure every burial is done in a safe and dignified way, because it does appear that the time of death is a time when the outbreak spreads.
We've seen that when [these four aspects are] all implemented to the full, the outbreak curve comes down. For that to happen, we need a lot of international and national personnel, well trained, with the additional feature that everyone who is working is able to keep themselves safe - with the right training, the right equipment, and the right support.
Let's hope your estimate is correct and you get this under control by next year. At that point, will you be open to our being able to hold the United Nations accountable for failures - whether perceived, alleged or real failures? Will you be open to a review of this whole affair?
I think we're accountable to the citizens of the world at all times. I'm accountable now, and I'm accountable in the future, as is everyone else in the UN system.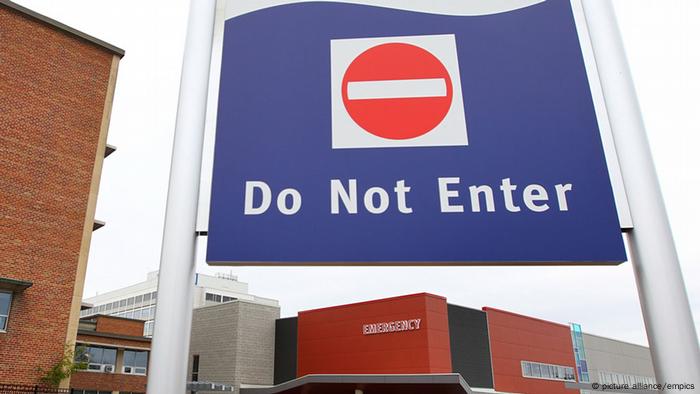 Unwarranted fear? Canada took the step of refusing visas to people from "Ebola states"
Yes. But arguably we have not learned from humanitarian crisis in the past.
When we are successful, it is often not evident to the world. When things don't go so well, it becomes painfully evident to everybody. It is extremely rare that a disease gets out of control and becomes of public importance. This time, we have an outbreak that's been declared a global public health emergency. That is the exception. The rule is that outbreaks are dealt with very rapidly. And I can be very clear: we are accountable for everything we do.
I'm super keen that an investigation is done at anytime, if that is called for. But at the moment, my focus is on getting this outbreak under control. And anytime anyone wants to investigate, I shall be absolutely keen for them to do so, and to do so in the proper way.
David Nabarro is a British physician and public health expert, especially in the area of influenza. In September 2014, Nabarro was appointed UN Special Envoy on Ebola to provide strategic and policy direction. In August, UN Secretary-General Ban Ki-moon had made him Senior UN System Coordinator for Ebola.