Yushchenko cited months of political infighting, parliament's inability to pass critical legislation, and failure of a ruling coalition in early September as grounds for calling new elections.
In an announcement on his Web site on Thursday, Oct. 9, he said fresh elections would take place on Dec. 7.
In a short, nationally televised, pre-recorded speech broadcast on Wednesday the Orange Revolution leader dissolved parliament as part of an agreement among top parties that new elections were necessary, as the legislature at the time had long been deadlocked.
By constitutional statute early parliamentary elections are mandated in Ukraine 60 days after a legislature is dissolved by presidential order. Yushchenko did not specify whether he had signed the order.
Before ceasing work, Ukraine's current parliament should amend the national budget to pay for the vote, which according to Yushchenko, would allow Ukrainians to select a brand new legislature.
"The future must be decided by you, the Ukrainian people," Yushchenko said.
Calls for new presidential election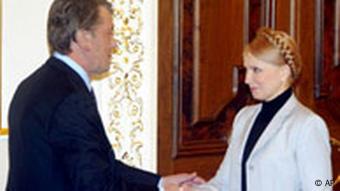 Former allies, Yushchenko and Tymoshenko have become bitter rivals
Ukraine's voters have gone to polls repeatedly since Yushchenko came to power in 2003, most recently in September 2007 in a vote putting a shaky pro-Western majority into power in the legislature.
Yushchenko's opponents have argued that dissolution of parliament would make the country's politics dangerously unstable. Some of Yushchenko's critics have called for the legislature to amend the constitution so Ukrainians could choose a new president in the upcoming election despite his term officially set to end in 2010.
His opponents, including one-time Orange Revolution ally and current Prime Minister Yulia Tymoshenko and former Prime Minister Viktor Yanukovych, said the country must pick a new president, if it were to select a new legislature.
Yanukovych, leader of the pro-Russia Regions Ukraine political party, predicted a strengthened position for his faction in the next legislature.
"This is the death knell of the present (pro-European) government," Yanukovych said, in remarks reported by the Interfax news agency. "We must look into the future, and consider how to unite people around ideas of improving the economy, and creating stability and peace in Ukraine."