Ukraine's military said unknown saboteurs blew up the arsenal in the eastern city of Balaklia in the early hours of Thursday morning.
"According to preliminary data ... as a result of sabotage…fire and explosions caused the detonation of ammunition at several sites storing rockets and artillery weapons," chief military prosecutor Anatoly Matios wrote on Facebook.
The 368-hectare site, one of Ukraine's largest military depots, contained some 138,000 tons of ammunition, he added.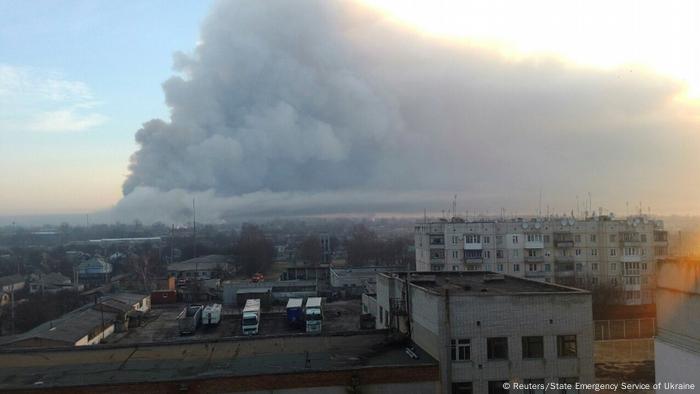 Thousands flee
Authorities said there was no immediate information about any casualties. Rescue teams have evacuated around 20,000 people from villages in the Kharkiv region, near the border with Russia. Hundreds of firefighters were deployed to put out the blaze.
Read: Ukraine bars Russia entry from Eurovision Song Contest 2017
Military spokesman Oleksander Motuzyanyk said security had been bolstered around other military bases.
Ukrainian Prime Minister Volodymyr Groysman was due to fly to the area later on Thursday.
Balaklia, a town of around 30,000 inhabitants, lies 100 kilometers (60 miles) from the frontline of Ukraine's war with pro-Russia separatists, which erupted in 2014 in the wake of the pro-Kremlin former president's ouster following mass protests in Kyiv. Moscow annexed the Crimean Peninsula in March 2014. More than 10,000 people have died in the conflict.
nm/se (AFP, Reuters, dpa)