Clichy sous Bois is a mere 15 kilometers (nine miles) outside of Paris, but it feels worlds apart. To get there from central Paris, you have to take the metro, then a suburban train and finally a bus.
Of the 30,000 people who live in Clichy sous Bois, one of the country's notorious banlieues, the suburban ghettos outside of big French cities, almost 75 percent have less than 800 euros ($1,150) to live on each month. But poverty is not the biggest problem.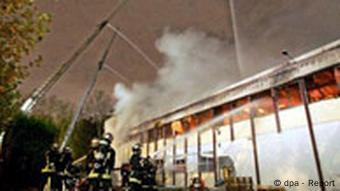 Rioters set fire to cars, shops and warehouses across France's suburban ghettos
"We are completely cut off," Deputy Mayor Mazziane Abdelaci says. "If you want to work or study in Paris or participate in the cultural life there, it'll take you one and a half hours just to get to the center. During rush hour, it takes even longer."
Getting out of Clichy sous Bois is difficult - in many respects. A job application with the area's postcode has little chance to even being considered by most companies. The people who live in this suburb feel they have no chance in life. And they're angry - in 2005 they vented their anger after two teenagers who where on the run from the police were electrocuted to death while trying to hide in a power station.
Weeks of unrest followed, with violence spreading through the impoverished outskirts of many of France's urban areas. The banlieues were ablaze with fire and riots in which three people died, thousands of cars were burnt, shops and banks were trashed or set on fire.
President Jacques Chirac declared a state of emergency and it took weeks for the police to get the situation under control.
Little progress, but not enough
A curfew and massive police presence eventually brought an end to the unrest. Then Interior Minister Nicolas Sarkozy infamously went on record calling the rioters "scum." Later, as president, he launched a program to improve the social conditions in the banlieues.
A 2006 march paid tribute to the boys who died while hiding from police
"If we hadn't received the money from that program, we would never have been able to replace some of the really run down housing estates," Deputy Mayor Abdelaci says. "The money also helped to rebuild the sports ground that had been burned down in the 2005 riots."
But the investments are not enough. There still is no job center in Clichy sous Bois, no community center and not enough activities are offered for children and teenagers to spend their time.
"My daughter should grow up somewhere else," says one of the residents. "This place has such a bad image that if you live here, simply finding a job is very difficult."
"Young people are left to themselves," a bystander adds. "They try to pull something off to make a bit of money. Then that'll get them in trouble with the police and things can easily escalate - as happened in 2005 or now in Tottenham."
In 2007 and 2010 France again saw violence and burning cars and shops. Youth unemployment remains on the rise. Deputy Mayor Abdelaci says he wants to continue his struggle to get his community back on track. But in the current financial situation, he's not too optimistic.
"If the financial crisis gets worse, and the government says it'll have to cut funds for areas like ours, then the situation in the banlieues will become explosive again. We're far from out of the woods."
Author: Julia Borutta, Clichy sous Bois / ai
Editor: Nancy Isenson