A hundred musicians, artists, activists and politicians signed an open letter condemning the treatment of Ugandan pop star-turned-politician Robert Kyagulanyi Ssentamu, also known as Bobi Wine.
Ssentamu, 36, who was arrested and charged earlier this month with illegally possessing firearms, saw that military tribunal case dropped on Thursday moments before a civilian court charged him with treason.
The new case is expected to spark anger in Uganda, especially since Ssentamu had said he was beaten while in custody.
Ssentamu's lawyers asked the magistrate to order his remand to a health facility. The magistrate ruled that Ssentamu should be allowed access to his own physicians. He was remanded until August 30.
Before the hearing, Coldplay singer Chris Martin, The Pretenders singer Chrissie Hynde, Damon Albarn of Blur and Angelique Kidjo were among those to "strongly condemn the arrest, imprisonment and vicious, life-threatening physical attack by Ugandan government forces" on Ssentamu.
"We call upon the Ugandan government to ensure his full access to medical treatment, to allow a full impartial investigation of his violent arrest and imprisonment," the letter read.
Museveni regime dismisses abuse
The government denies accusations that it tortured Ssentamu, an outspoken critic of Ugandan President Yoweri Museveni. The military released a video on Wednesday of the former pop star smiling and in good health during a visit by Jacob Oulanyah, the deputy speaker of Uganda's parliament.
Ssentamu, who won a seat in parliament last year, had not been seen in public since August 13, when he was campaigning in an election to choose a lawmaker in the northwestern town of Arua. Museveni was also in Aura at the time, campaigning for a rival candidate, who eventually lost.
Ssentamu was detained with four other opposition lawmakers, three of whom face treason charges. A fifth lawmaker, Francis Zaake, is in hospital with injuries he allegedly sustained during his arrest.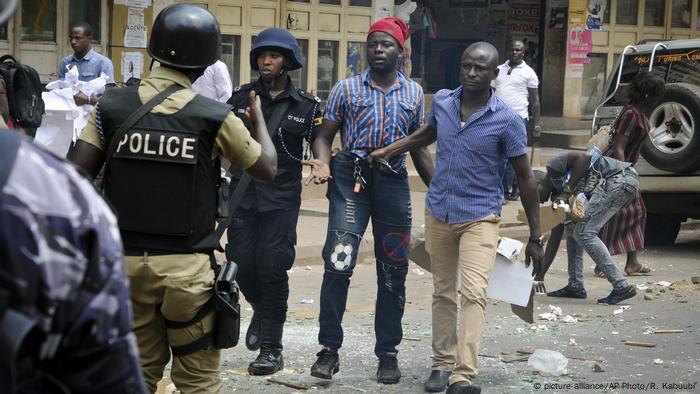 Security forces detain protesters in the Ugandan capital, Kampala
Uganda outcry
The arrest of the popular MP has angered many in Uganda. Street protests demanding Ssentamu's release erupted in the Ugandan capital, Kampala.
Security forces have violently put down these protests, with local broadcasters releasing video footage on Monday of men in military uniforms beating up people, including two journalists. On Wednesday, other riots in the eastern town of Jinja, on Lake Victoria, were reported.
Also on Wednesday, hundreds attended a special Mass in Uganda's main Roman Catholic cathedral to pray for Ssentamu's safe release, with people outside chanting his campaign slogan, "People power, our power."
"He isn't supposed to be locked up. He's supposed to be in hospital," Ssentamu's wife told the gathering.
Religious leaders have condemned the violence "in which lives are lost, people are barbarically arrested and tortured and property destroyed."
Popular singer turned popular lawmaker
The treatment of the former singer has become a hot topic for youthful opposition to the long rule of Museveni. In a statement late Wednesday, the Ugandan president accused "unprincipled politicians" of luring young people into rioting.
Museveni said he had no power to release Ssentamu. "Let us, therefore, wait for the courts and see what they decide."
Museveni, 74, seized power by force in the eastern African country in 1986. He has since been elected five times and is now able to seek re-election in 2021 because parliament passed legislation last year removing a clause in the constitution that had prevented anyone over 75 from holding the presidency.
Ssentamu publicly opposed that decision and has been one of Museveni's chief critics. He has quickly become popular with Uganda's mostly young population, successfully campaigning for candidates who have defeated both ruling and established opposition parties. Some of his supporters are pushing for him to run for president in 2021.
dv/sms (AFP, AP)