UEFA has named Theodore Theodoridis as interim general secretary to take over from new FIFA president Gianni Infantino.
Greek administrator Theodoridis moves up from deputy secretary general in place of Infantino, who was elected as president of world footbal's governing body FIFA, on Friday.
"I'm proud of working for UEFA, I'm proud of its past, I'm proud of what we've done
With world football stuck in corruption turmoil, Theodoridis cannot permanently take over the key post at the wealthiest continental confederation until the future of UEFA president Michel Platini is decided.
The French football legend has been hit with a six year ban over a suspect $2 million payment from former FIFA boss Sepp Blatter and so cannot take any UEFA decisions. UEFA announced on Friday that no decision on whether to replace Platini as president would be taken until his appeals are complete.
Should Platini, 60, win his appeal at the Court of Arbitration for Sport (CAS), the Frenchman could return to decide who he wants as his right-hand man.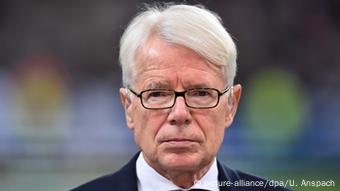 Is it time for Platini to give in to the calls for him to resign?
Rauball calls for Platini to resign
Reinhard Rauball, the current interim head of Germany's football federation, this week called on Platini to resign now. Rauball said there is a power vacuum with Platini suspended and Infantino gone.
"One has to distinguish between the personal interests of Platini and the capacity to function of UEFA, which is a venture worth billions," he told Sport Bild magazine.
But the UEFA executive decided at its meeting on Friday to keep faith with the Frenchman. "The UEFA executive Committee reconfirmed its decision of January that no UEFA presidential elections will be scheduled until a decision has been made by the Court of Arbitration for Sport on Michel Platini's appeal," said a statement.
Theodoridis told a press conference the committee decided "unanimously" to wait for the CAS verdict.
apc/kd (AFP, AP)