UBS' lawyers said Friday, Feb. 20, that acting in according with a US order to reveal the names of 52,000 suspected tax dodgers could have severe consequences. UBS employees could face "substantial prison terms as well as fines, penalties and other sanctions," they said.
In addition, compliance with the demands made in the suit filed on Wednesday on behalf of the US International Revenue Service would force UBS "to violate Swiss law in a manner that will expose it to penalties, civil liability and the possible revocation of its banking license," continued the lawyers.
Friday's temporary court ruling halts the future transfer of data until a petition brought by eight bank clients was heard and UBS and others were able to make their statements to the judges.
The clients claim there is no legal basis for transferring their data and that such a move would cause them harm.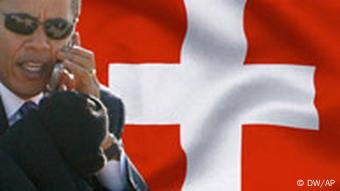 Obama has promised to go after tax havens
Some experts say the case, a new step in the growing global fight against tax evasion, opens cracks in the country's longstanding bank secrecy laws.
The tradition of Swiss banking secrecy dates back to legislation from 1934. It placed unusually tight restrictions on the amount of information banks are allowed to share with third parties, including foreign governments seeking out tax cheats.
UBS to challenge lawsuit
On Thursday, UBS had agreed to pay $780 million and identify some of its suspected customers in response to US charges that it had helped American citizens evade taxes.
The bank said some of its employees engaged in "improper conduct" and officials admitted that the institution had made mistakes, but has also said it would challenge the US lawsuit.
UBS, with the support of the Swiss regulatory body FINMA, has handed over the names of those clients suspected of deliberate criminal acts, but said thousands of other clients would still be protected under Swiss laws.
Reports estimated that 250 names had been handed over, but the number has not been confirmed.
The Swiss court said Friday that FINMA's authorization to hand over the initial data had prejudiced the outcome of an ongoing legal evaluation in Switzerland on whether the account holders had committed tax fraud.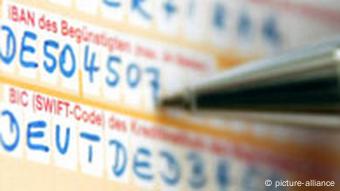 Switzerland has particularly strict laws on sharing bank data with third parties
Shares reflect concerns
UBS shares fell sharply Friday morning, dropping 17 percent at one point in early trading and ultimately closing at 11 Swiss francs, down 14 percent from its opening price.
The drop in stocks comes a week after both UBS and Credit Suisse, the second-largest Swiss bank, reported huge fourth- quarter losses.
UBS's 2008 losses amounted to more than 19.6 billion francs. It has announced job cuts and taken a $58-billion bailout from the Swiss government.
UBS was not the only financial institution to do fairy poorly on the stock market Friday. Credit Suisse dropped 9 percent and other banks also fell. Analysts said this was due to concern for the whole sector.