The rain clouds are hanging low in the sky over Douz, a small town in southwestern Tunisia. Douz is often called "the gateway to the desert" - the sun tends to beat down mercilessly on the few travelers here. Tourists used to stop in this town of 30,000 on their way to the Sahara Desert - but they barely come anymore since the political upheaval of 2011.
"They are scared of kidnappings, but nothing has ever happened here," said Am Sadok shrugging his shoulders. He has spent 52 years repairing shoes and bags in a tiny shop on the market square. He has seen plenty of presidents come and go.
Ali Larayedh, who is holding a speech on the square today, has in the past two years been Tunisia's interior minister, then prime minister. He is one of the most well-known faces in the Islamist Ennahda Movement party. Around 500 people have come to watch his campaign event, standing in a light rain. Larayedh talks about the fight against unemployment, economic development in the country, and addressing the crimes committed by the dictatorship. He himself served a long prison sentence - including 10 years in solitary confinement under the rule of Zine El Abidine Ben Ali.
To vote or not to vote
"That was an honest, very clear speech - that's how an election campaign should be," says Saad Ben Ahmed, who comes from a small village nearby. He has already decided to vote for the Islamists on Sunday. "They're clean! They want to improve the situation in Tunisia and they don't collect money for their own pockets," - like the country's rulers used to do.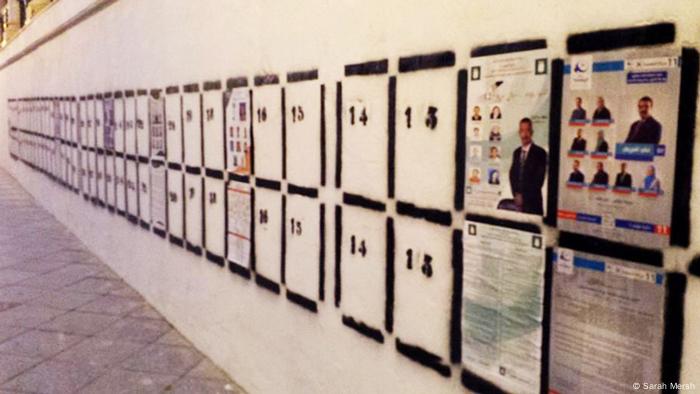 Sunday's election is likely to lead to a run-off
"It's all just blah-blah," counters Chiheb Nasr, who runs a wholesaler for cosmetic products. "People aren't interested in politics anymore, because since the revolution all we've heard are empty promises, but nothing has actually changed." He thinks it's important to go and vote, but he can't decide who for. "Really, I don't find my ideas represented in any of the manifestos."
Ennahda emerged from the 2011 election for the constitutional assembly as the strongest force. They were considered honest, god-fearing, and victims of the former dictatorship. Three years ago, that brought the Islamists a lot of votes, but they quickly had to learn that government responsibility often results in a loss of reputation. The quick improvement for the population failed to materialize, and the attacks of suspected radical Islamist fighters on the American embassy in September 2012 and the murder of two Tunisian opposition activists in February and July 2013 plunged the Ennahda's coalition into a deep crisis. After months of tough negotiations, they declared that they were willing to step down - a clever, strategical move, as it turned out.
In the meantime, the party's reputation has recovered - thousands have appeared at campaign events. Stepping down, even when you have been legitimately elected, is proof that it is possible unite Islam and democracy, Ennahda's politicians never tire of saying.
Caught in the past?
The Nidaa Tounes ("Call of Tunisia") party, Ennahda's strongest political opponents, say this is all a façade. They say Ennahda is planning to make society more Islamic, and is untrustworthy. "If you don't vote for Nidaa Tounes, you're voting for Ennahda," party chairman Beji Caid Essebsi told his supporters in Hammam Lif, a suburb of the capital Tunis. The 87-year-old founder of the party that positions itself as the secular counterpoint to the Islamists, wants to be president of Tunisia in his old age. His party spans a wide spectrum, from the left to former cadres of Ben Ali's now defunct party RCD.
But a lot of voters think this spectrum is too broad, and fear a return of the old guard through the backdoor. "I've come here to take a look, but I definitely won't vote for Nidaa Tounes," says Selim, a young man watching the event from a distance. "They remind me too much of Ben Ali's time."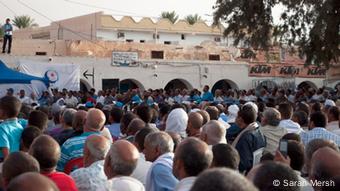 Ennahdha Movement supporters gather in Douz ahead of elections
Both major parties have now announced that they expect to gain a third of the votes. That won't be enough for government, which could make a kingmaker of the Free Patriotic Union, run by businessman and soccer club chairman Slim Riahi. His party could become the third biggest party in the parliament - or else Ennahda and Nidaa Tounes could divide the cake among themselves - because the two conservative parties have more in common than many supporters are prepared to admit. While Essebsi is running in the presidential election in November, Ennahda is concentrating on Sunday's parliamentary election - so a division of power might well be possible.
While the results of Sunday's election are expected in the middle of next week, the presidential election is likely to need a run-off. There are 27 candidates for the November 23 presidential election - the run-off wouldn't happen until the end of December.