The tsunami struck on the morning of December 26, 2004, decimating coastal communities in Indonesia, Sri Lanka, India, Thailand and beyond. It was sparked by a 9.1 magnitude earthquake off Indonesia's west coast, killing more than 130,000 in that country alone.
A decade on, ceremonies to remember victims are taking place in the Indonesian city of Banda Aceh, the capital of the worst-hit Aceh province, with thousands gathering at a mosque that was one of the few buildings left standing in the disaster.
"We hope Aceh people will not waver as a result of the calamity that has befallen them," said Malaysian cleric Syeikh Ismail Kassim. Indonesian President Joko Widodo and representatives of a dozen countries are due to attend the Aceh service.
Indonesian flags flew at half-mast in Meulaboh, a fishing town struck by 35-meter-high waves and considered to be the ground zero of the tsunami.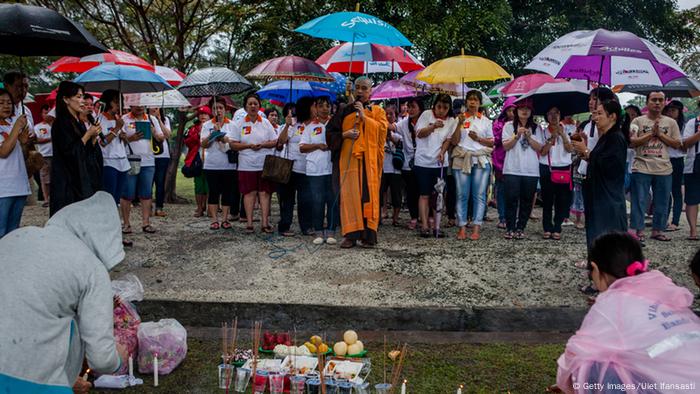 Mourners attend a Buddhist ceremony in Banda Aceh to honor those lost in the tsunami
Memorials will also take place in Thailand, with ceremonies expected in the tourist hubs of Phuket and Khao Lak. More than 5,300 people were killed in Thailand - half of them holidaymakers.
Events are also planned in Sri Lanka, including at the site where a train was washed away, carrying 1,500 people.
The disaster saw countries around the world pour billions into relief and reconstruction work, and also prompted the establishment of a pan-ocean tsunami warning system as well as more investment among individual countries in being better prepared.
Kira Kay, Executive Director of the Bureau for International Reporting (BIR), told DW there were also unintended positive consequences from the disaster - including the end of Aceh's civil war.
"I think the international response made Acehnese realize they weren't as isolated a region as they thought they were, giving them a reason to commit to peace. And the Indonesian government knew they had a lot to lose in terms of aid if the war restarted," Kay said.
"The tsunami brought a massive, sudden tragedy, but it simultaneously ended what had been a long, psychologically draining experience of civil war. It was a chance to start fresh in many ways."
jr/gsw (Reuters, dpa, AFP)