The strike by train drivers organized in the GDL union virtually paralyzed regional and goods traffic in the east of the country, with state-owned rail company Deutsche Bahn (DB) providing only basic services to keep essential goods traffic flowing.
In western Germany, around 50 percent of regional services were hit, while express trains were less affected. In eastern regions of the country, however, many more passengers were left stranded with 70 percent to 80 percent of regional trains cancelled.
A DB spokesman confirmed the company had initiated court proceedings, suing GDL for 5 million euros ($7.5 million). The case relates to a previous strike called in July but could also set a precedent for Thursday's labor action.
Unlimited strikes could start next week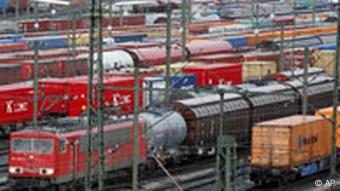 The rail strike spread from cargo to passenger trains early Thursday morning
The GDL, in which some three quarters of Germany's 20,000 train drivers are organized, has raised the stakes in the seven-month pay and conditions dispute, targeting goods, regional and long-distance traffic simultaneously. About 3,000 union members are reported to have walked out.
GDL Deputy Chairman Clause Weselsky warned Thursday that an unlimited strike could start as early as next week. The union said it was prepared to strike until Christmas if the Bahn didn't give in to its demands.
The current strike, which hit goods traffic from midday Wednesday and passenger services from 2:00 a.m. Thursday, is set to end at 2:00 a.m. Saturday.
Despite carmaker Audi closing a plant in Brussels due to lack of components, economists were divided on the cost of the strike. While some said limited strikes would not cause noticeable damage to the German economy other maintained a freight strike costs 50 million euros per day, with costs skyrocketing to 500 million euros daily if train drivers stay off the job longer than a week.
Sympathy waning for union?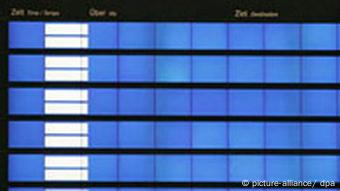 Some passengers are starting to get fed up with the lack of departures
Reports on the public's support in the labor dispute were split. Unscientific polls taken by news organizations at train stations showed overall support for the train drivers, but one professional poll indicated that sympathy for the union is dropping.
A Forsa poll for the German mass-market daily Bild, showed 45 percent of those asked agree with the GDL,.
"Any compromise must start with an improved offer," Weselsky said. DB's current offer did not meet the GDL's demand for a separate contract from other workers and boosted pay only through increased hours, he added.
The GDL stuck by its position of refusing to negotiate on this basis, Weselsky said. DB has similarly refused to budge on a separate contract for drivers.
DB board member Karl-Friedrich Rausch termed the latest strike, the sixth since June, "senseless" and warned the company would not "unconditionally surrender."
"If we give in now, the damage to the economy would be even greater," he added
But DB management admitted the goods service situation was "increasingly critical."
Government working "behind the scenes"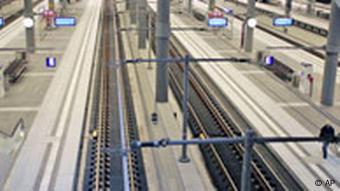 Many train passengers found other ways to travel to avoid the strike
While the federal government stuck to established German practice of not intervening in labor disputes, Transport Minister Wolfgang Tiefensee said officials were "working behind the scenes" to resolve the potentially damaging conflict.
Tiefensee has repeatedly stressed the harm that would be done to Germany's booming economy by a lengthy strike.
Commuters responded by switching to cars or working from home. DB said it was maintaining most high-speed long-distance services, and many passengers were checking services on the Internet before attempting to travel.