The 100 bus route is a hot tip for tourists in Berlin. In a half-hour trip from Zoo station in the western part of the city to the landmark Alexanderplatz square (or vice versa), passengers tour through a number of the city's must-see spots. It was brought into service 25 years ago after Germany's reunification and was the first bus line to connect East and West Berlin. It has since gained enormous popularity as a tourist bus.
Some hotels give guests a "Welcome Card" for free that includes use of all public transport. If they don't, a ticket from the driver costing only 2.70 euros ($2.90) takes you right through central Berlin.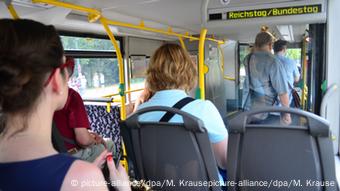 A bargain city tour for just 2.70 euros
A bargain city tour
Lots of Berliners ride the route to work or the shops, but the yellow bus is also a magnet for tourists. As soon as the doors to the yellow double-decker slide open, throngs of passengers hop aboard, all vying for a seat on top deck for the best views of the city sights. But they'll have to be quick not to miss the Kaiser Wilhelm Memorial Church pass by on the right. "The bus is always full," says bus driver Auguste Ferber. Word spread that the 100 was a much cheaper alternative to a sightseeing bus, only without the commentary.
At a current price of 2.70 euros you can travel right through the center of Berlin. With Tiergarten passing by on both sides, the bus heads for the Victory Column roundabout before passing by Brandenburg Gate and onto the famous Unter den Linden. Some passengers can be seen flicking through guidebooks or scanning smartphones for extra information. Or with a bit of luck there might even be a real Berliner on board to give some insider knowledge.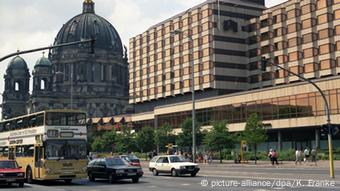 The "reunification bus" on Karl-Liebknechtstrasse in 1991
Italian-born Andra Lucentini hopes he's up to the task of tour guide. He lives and works here now and has visitors from Italy. He doesn't often travel on the 100 but he thinks it's perfect for tourists and wants to take his guests along to see the sights and sounds of Berlin.
Stefan Östblom is a Swedish tourist who's also an enthusiast of the double-decker tour. You can "see everything you should see of Berlin," he says.
Competition for private sightseeing-tours
And it's clearly a popular opinion. According to figures from Berlin's transport network (BVG), every day around 15,000 passengers travel the route, which has been specially tailored for tourists. BVG publically promotes this service and it's certainly providing stiff competition for private sightseeing tour companies.
Andreas Keuchel, managing director of Top Tour Sightseeing, criticizes BVG for working outside the scope of their duty as a public transport service. He doesn't take the competition too seriously though. After all, it's an extra asset to the city's tourism package. "I think that anything that boosts the attractiveness of Berlin is good," says Keuchel.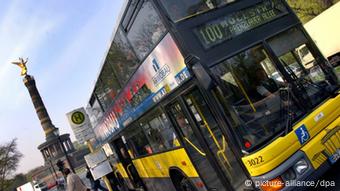 Buses have been part of Berlin's network since 1927
Berlin is a highly popular tourist destination. Around 11.9 million visitors came last year according to official statistics. And there are good reasons for the city's popularity, if you ask the passenger in the upper deck of the 100, such as Klaus Wiegmann, a tourist from Lower Saxony. Taking in the sights, he says delightedly: "Berlin is getting prettier and prettier all the time."