Zambia's president Edgar Lungu seems anxious and according to several observers, he is no longer able to hide it. Elections are set for August 11, 2016 and last year Lungu won by a slight margin when he took office to replace his deceased predecessor Michael Sata. In the presidential by-election of January 2015, Lungu (Patriotic Front, PF) beat his challenger Hakainde Hichilema (United Party for National Development , UPND) by only 1.6 percent.
Just five months ahead of the elections, the opposition feels muzzled. Last Thursday (11.03.2016) UPND vice president, Geoffrey Mwamba pleaded not guilty to training youths in the use of arms without the president's permission. Mwamba was also temporarily detained for allegedly having threatened "to go for [the president's] throat". That's according to the police.
Out-maneuvering out opponents
Whether the accusations are true is unclear. Yet many in Zambia believe that politics are at the heart of the matter. The PF is already in campaign mode and they are restricting other political parties from contesting, political analyst Nalukui Milapo from the University of Zambia told DW.
Milapo is concerned about cases like Mwamba's or the case of former PF lawmaker, Miles Sampa. Sampa who founded his own party, the Democratic Front, barely escaped a violent mob of youths who are believed to be aligned with the ruling party. Zambia's vice president, Inonge Wina later condemned the attack.
There are also more subtle ways in which the ruling party is undermining the opposition, explained Milapo. Public opposition events are being quashed, while the PF promotes itself through women's campaigns or prominent appearances on TV.
The gap between rich and poor
While two-thirds of all Zambians still live below the national poverty line, Lusaka's upper and middle classes spend their time in the city's luxury shopping malls. In the last year, Zambia's economy took a hard blow as copper prices dropped. Additionally the country is experiencing a severe drought as its population grapples with recurrent power outages. For many Zambians, the fight for survival is so great, that political participation is the farthest thing from their minds, explained Helmut Elischer who heads the German Friedrich-Ebert-Foundation in Zambia.
Immune to justice?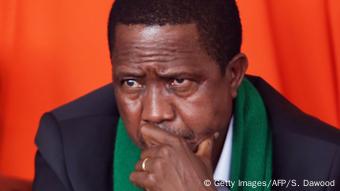 Zambia's president Edgar Lungu is a worried man
Poverty, missmanagement and rampant corruption are the issues that worry Lee Habasonda, head of the Zambian Transparency International chapter. "Lungu's main aim is to win the elections," Habasonda said. "What he is doing now is looking aside and ignoring cases of certain people who are supporting him but are facing corruption charges." Habasonda said. "I am referring to the former president of Zambia, Rupiah Banda who has rendered support to Lungu and all of a sudden his cases are dead. They are dropped."
Banda is accused of having personally profited from a million dollar oil deal with Nigeria during his time in office between 2008 and 2011. Banda belongs to the opposition Movement for Multiparty Democracy (MMD), but he is said to be close to Lungu, who has given several high-ranking posts to members of the MMD. Only last Friday (11.03.2016) it was announced that the government plans to restore Banda's immunity from prosecution, which he lost three years ago.
Media under pressure
A few days ago, Zambia's anti-corruption chief, Rosewin Wandi resigned. According to one of the more critical Zambian newspapers, 'The Post', she had come under pressure for attempting to investigate a case very close to the president. The paper itself has had a few run-ins with the authorities. In July 2015, an editor with 'The Post' was briefly detained for allegedly publishing classified state documents. In December the paper's offices were raided for tax evasion.
In its Press Freedom report (2015), the US based watchdog Freedom House rated Zambia as 'Not Free'.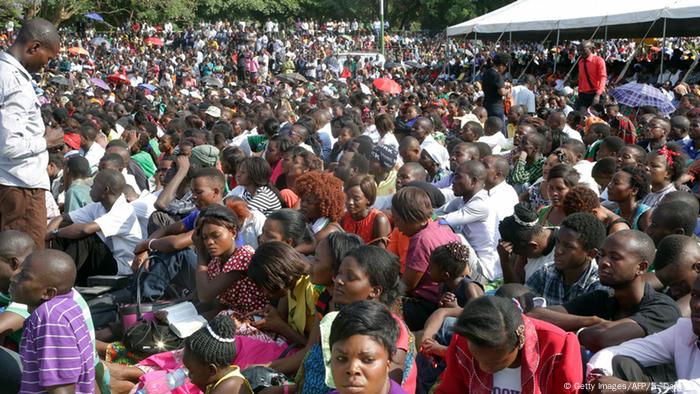 Thousands of Zambians attended a prayer rally in October 2015 against the depreciation of the Zambian Kwacha
Incumbent presidents can lose
"By regional comparison, the Zambian press is incredibly free," Alastair Fraser an African politics lecturer from SOAS in London said. "You can say anything and people do say anything", he said. That's the reason why the papers are full of rumors and slander, he added.
There is no real threat to press freedom or democracy in Zambia, Fraser said. On the contrary: "It's perfectly plausible for political parties to be voted out, which is still not that common an occurrence across Africa. But incumbent presidents in Zambia can lose, have lost and might lose again."
In Zambia itself, however, some remain more skeptical. From outside, Zambia is often portrayed as a model democracy, political analyst Milopa told DW. "If you're on the ground here, you find that things are not okay."