Toronto police confirmed that 10 people were killed and 15 injured when a white van mounted a curb in the north of the city on Monday. Sunnybrook Hospital reported that several victims were in critical condition.
The driver fled the scene, but police managed to track down the vehicle and arrest the suspect.
What we know so far
A white van rammed into pedestrians at about 1:30 p.m. (1730 UTC) about 15 kilometers (9 miles) north of the center of Toronto.
The incident took place starting at the corner of Yonge Street and Finch Avenue East in Canada's largest city.
The van drove at speed for about a kilometer before it stopped.
Police Chief Mark Saunders identified the suspected driver as 25-year-old Alek Minassian from the town of Richmond Hill, on the outskirts of Toronto. Police said he was not previously known to them.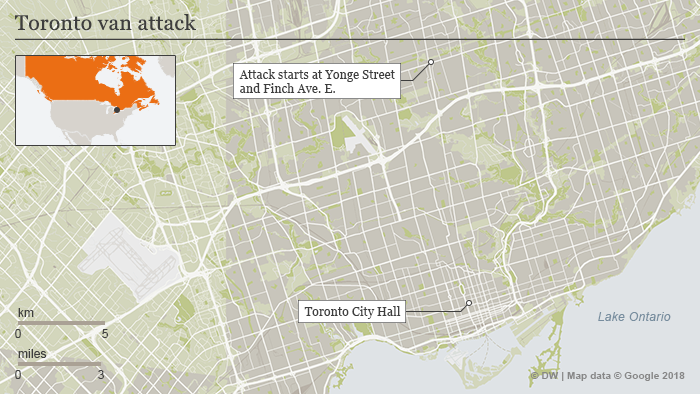 Incident 'looked deliberate'
Saunders said it was too early to discuss motive, but added that the driver's actions "definitely looked deliberate."
Police have closed off the area in the vicinity of the incident.

Canada's public safety minister, Ralph Goodale, said available information indicated that there was "no national security connection." Goodale said Canada had not changed its terror alert level.
Police look for eyewitnesses
A witness, Nick Sanka, told the broadcaster Global News: "One person was hit at the corner of Yonge and Finch, two at the next corner and three at the corner next to me were run over. ... He was definitely speeding, wasn't swerving, just went straight through."
Another witness, Alex Shaker, told CTV News Channel: "He started going down on the sidewalk and crumbling down people one by one."
The Toronto Star newspaper published a video on its website that showed police apparently arresting a man after the incident. "Shoot me in the head," the man, believed to be the suspect, says while confronting police officers.
The truck rental company Ryder System Inc. confirmed that its vehicle was used in the incident.

'Hearts go out'
Canadian Prime Minister Justin Trudeau thanked first responders for facing "danger without hesitation."
"We should all feel safe walking in our cities and communities," Trudeau said. "We are monitoring this situation closely, and will continue working with our law enforcement partners around the country to ensure the safety and security of all Canadians."
Kathleen Wynne, the premier of Ontario, said provincial, federal and Toronto city police were working together to investigate what happened. Speaking to reporters at about 3:30 p.m. local time, Wynne said no motive had been determined. "I think we are all unsettled and disturbed by a situation like this," she said. "I think it's impossible not to be. It's frightening."
Critical timing: The incident occurred as ministers from G7 countries were meeting in Toronto in the run-up to the G7 meeting in Quebec City in June.
jbh,dj/se (Reuters, dpa, AP, AFP)