Head of the Committee Against Torture, Igor Kalyapin, left the Chechen capital after he was thrown out of his hotel room and pelted with eggs late Wednesday.
The veteran activist traveled to Chechnya to organize a press conference over an earlier attack on foreign journalists in the same region, which ruled by the firebrand strongman Ramzan Kadyrov. Kalyapin had repeatedly accused Kadyrov of rights abuses.
After Kalyapin checked into his hotel on Wednesday night, three men reportedly entered his room, with one of them claiming to be the hotel manager.
The rights advocate was giving a print interview at the time.
"The manager said that I needed to leave the lodge, because I am criticizing the Chechen head of state and the Chechen police, and he is very fond of Ramzan (Kadyrov)" said Kalyapin.
'Nowhere to go'
Kalyapin was escorted downstairs where he was met by a group of some 30 women, presumably working in the hotel and the shops on site. The women shouted at him, asking how dare he "speak badly of Ramzan."
"I understood that they are keeping me there on purpose, waiting for the musclemen to arrive," Kalyapin said. "But there was nowhere to go. It was obvious that no hotel in Grozny would give me a room. And any of my Chechen friends from Grozny would be in mortal danger."
After that, Kalyapin was targeted by a "young men in civilian clothes and black masks," a lawyer for Committee Against Torture said.
A photo tweeted by Nastia Moskvychova shows Kalyapin after the incident, identifying him and the place where he was attacked.
"They threw eggs, cake, flour and green disinfectant," according to Dmitry Utukin. The lawyer also posted a picture showing Kalyapin after the attack.
Kremlin response
Kalyapin is also a member of the Kremlin rights council, an advisory body to President Vladimir Putin.
Commenting on the attack, Putin's spokesman Dmitry Peskov said it presented a " very dangerous trend, which undoubtedly prompts concern."
"This is unacceptable," he added.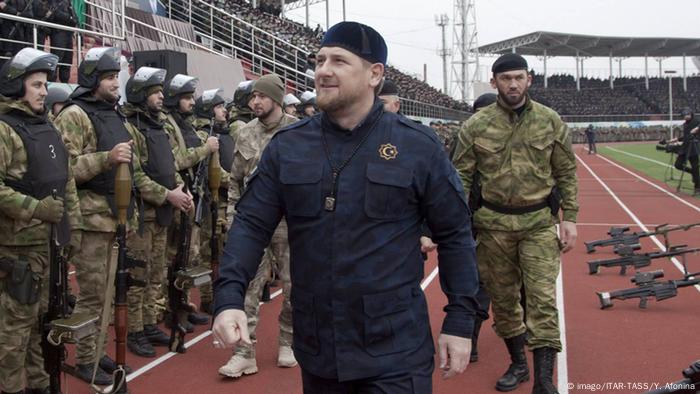 Critics claim Kadyrov leads his own personal army
Putin's 'foot soldier'
President of Chechnya Ramzan Kadyrov is a former commander of the anti-Russian rebels in the restive region. He switched sides in the late 1990's and became state president after his father was assassinated in 2004.
He often describes himself as Putin's "foot soldier."
Government critics in Chechnya accuse Kadyrov of ruling the region as his personal empire, citing allegations of kidnapping, torture and corruption.
Last week, masked attackers beat up foreign journalists set fire to their minibus as they were heading to Grozny on a press tour organized by Kalyapin's group.
In 2014, unidentified attackers set fire to the office of the Committee Against Torture in the Chechen capital, and last year it was raided by masked men.