It felt a little like the first day at school - or at university. The 64th Nobel Laureate Meeting in Lindau, southern Germany, opened on Sunday (29.06.2014). The 600 young researchers attending do not need to prove themselves, they are already the best in their fields, which is why they were invited, something of an honor because there were thousands of applications from students, postgraduates, and postdoctoral researchers. The Lindau Meeting is a tradition since 1951, attended not only by young researchers but also many Nobel laureates.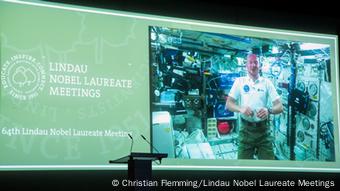 German astronaut Alexander Gerst sent greetings from the ISS
Mood of expectation
There was no whispering, no mobile phones, and no disturbances as the audience followed events on stage attentively. Research and Education Minister Johanna Wanka had traveled there especially to welcome many international guests. "Lindau mainly serves the exchange of ideas - and this exchange provides new and decisive impulses to bring research forward," she said.
Germany is very happy with its young scientists, says the minister, adding that it was not true that the majority of its scientists move abroad. "That still haunts the minds of people," she said in an interview with DW. But in reality that was only true 15 years ago. "At the moment many leading researchers are coming to Germany, because we have invested - against the trend - in education and science."
Wanka also offered the young researchers a warning in her speech: "Science today should not do everything it is capable of." Ethical issues have to be considered more than they were 20 or 30 years ago - especially in medicine.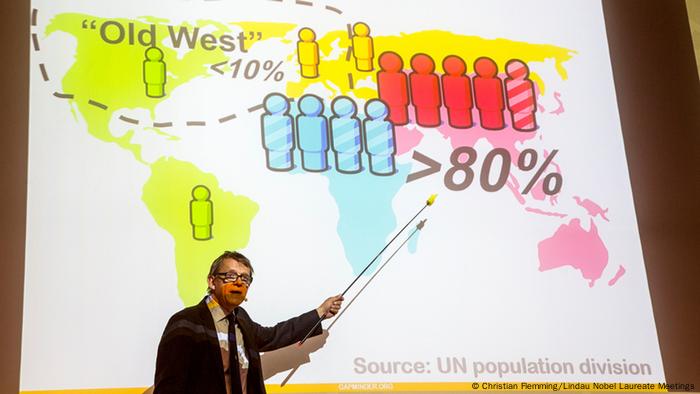 Swedish researcher Hans Rosling explains the world
This year's focus: psychology and medicine
This year medicine and psychology are the twin focusses of the meeting. Topics include the immune system, developments in cancer research, and intelligent active ingredient research.
There are so many themes for the young researchers and the 37 Nobel Laureates attending, and the board of trustees presented a few highlights at the opening ceremony besides the obligatory opening speech. For example the German ESA astronaut Alexander Gerst sent a video message from the ISS in which he wished the young conference participants success. Their spirit of research makes every single one a "Columbus of the 21st century," he told them.
Sunday's event finished with an interactive presentation by Hans Rosling, a Swedish professor for international health at the Karolinska Institute in Stockholm. The renowned scientist works to change people's view of the world with the help of colorful statistics and a dynamic stage show.
He came up with something special for the opening ceremony: the participants had to answer quiz questions with the help of a remote control - for example about the average age or the total population in different continents. The audience solved this task more or less successfully, though afterwards Rosling admitted he had hoped for better results. Still, it is reassuring that even Nobel Laureates and outstanding researchers still have a few things to learn.