Only about half of those eligible to vote in Zimbabwe's long-awaited referendum on a draft constitution actually did so. There were complaints that the electorate had not been given enough time to fully read and understand the lengthy document. But despite last-minute attempts by NGOs to postpone the vote, it went ahead as planned on Saturday March 16, 2013 and was described as peaceful and credible by regional observers.
Results released by the country's electoral commission on Tuesday March 19, 2013 put the level of approval at 94.5 percent, or 3,079,966 voters, with just 179,489 voting against.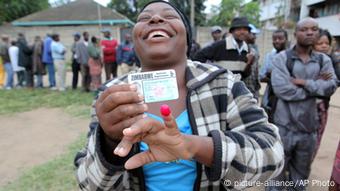 Unlike this woman, many Zimbabweans did not vote
The announcement was made by electoral commission head Lovemore Sekeramayi.
"Since the majority of the votes were received in favor of the adoption of the draft constitution, the draft constitution is declared to have been adopted by the people of Zimbabwe," he said.
Way clear for elections
The referendum was a condition set by regional leaders in order for elections to be held later this year that will mark the end of a fragile four-year coalition between 89-year-old President Robert Mugabe and Prime Minister Morgan Tsvangirai. The document now endorsed grants parliament more powers and expands women's rights. It also reduces the powers of the president and limits the length of office to two five-year terms. However this will not apply retroactively, which means that President Mugabe could rule for another 10 years, finally bowing out at the age of 99.
The document now goes to parliament where a two-thirds majority approval is required before it is sent to President Mugabe for assent.
Representatives of the Southern African Development Community (SADC) who observed the referendum said the vote was free and fair. Western observers were barred. But Western embassies in Zimbabwe observed the plebiscite using their diplomatic immunity. Carl Skau, the European Union deputy ambassador in Zimbabwe, said Brussels was pleased with the way the referendum was conducted.

"The referendum voting process was according to all indications conducted in a calm order. We think this is a vital step concluding the constitutional process, but also paving the way for elections this year," he said.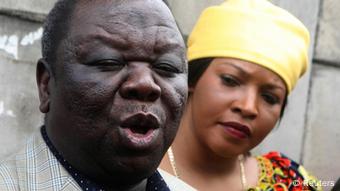 For Prime Minister Tsvangirai the constitution is like a new baby
"In line with the European Union's decision in February, the EU is committed to immediately review its policy on the restrictive measures and to suspend the remaining measures applying to individuals and entities."
The restrictive measures referred to are sanctions imposed on President Mugabe and senior members of his Zanu-PF party following cases of human rights abuse and election rigging in 2002. Skau said the EU would meet this Friday to review the sanctions.
MDC sees Mugabe's days numbered
President Mugabe's coalition partner Morgan Tsvangirai who heads the Movement for Democtratic Change (MDC) had also backed the referendum, seeing it as a necessary step forward. He described the new constitution as "a baby of the democratic struggle in Zimbabwe. Because this constitution (...) is owned collectively by the people of Zimbabwe, any act of impunity or violation of the provisions of this charter would be an act of infanticide and will not be condoned or tolerated."
However, as he was speaking, several of his MDC party officials were in court, following a raid of the party's headquarters on Sunday. Police defied a High Court ruling to release them.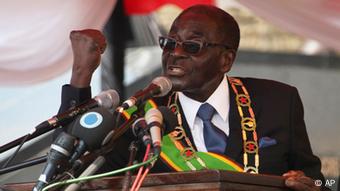 President Mugabe shows no signs of wanting to step aside
Tsvangirai accused the police of being pro Zanu-PF which he predicted would lose the upcoming elections.
"History is on record that when change is about to happen there are elements who want to divert that. It is a defiance message," he said. "But should be we diverted because of that? No!"
Elections are expected to be held between July and October. President Mugabe appeared to be unfazed by criticism of the referendum or by predictions of his imminent departure from the political stage. He spent Tuesday attending the inauguration of Pope Francis at the Vatican.