Good to the last drop. The Maxwell House coffee ad campaign serves more like a cold irony in the era of rising global temperatures because if predictions hold, the effects of climate change could lead to the extinction of the world's supply of premium coffee within 70 years.
And the problem is evident in Mexico, among the ten largest coffee-producing countries. In the last 20 years, erratic climate conditions have cut coffee production by half in the southernmost state of Chiapas, where 42 percent of Mexican coffee originates.


Roberto Fermoso, who manages the La Victoria and Santa Fe coffee plantations in Motozintla, Chiapas, said coffee production in the state fell from 138,000 tons two decades ago to 69,000 tons today.
"[Climate change] is very evident for us," Fermoso wrote in an e-mail. "For example, last year the rainfall was 40 percent higher than the average rainfall."
More moisture in the atmosphere equals more coffee rust, Hemileia vastatrixa, a fungus that spread quickly in Mexico and Central America in 2013, and prevents the plant from bearing fruit. Compounding the problem is that too much rainfall washes away the region's mineral-rich soil, partly created from the ashes of the Tacaná Volcano and ideal for producing high-grade Arabica coffee.
Pests and erosion challenge crops, then people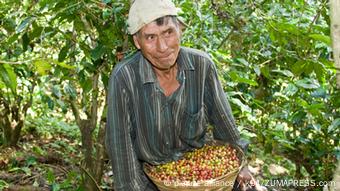 Coffee farmers are struggling with several problems.
And then, there are the insects. Coffee grows mostly under the canopy of trees in Chiapas—similar to the way it's found in the forests of Ethiopia where the plant is indigenous. But hard-to-predict periods of long rains and droughts create environments rich for insect reproduction. And farmers in search of cooler, less insect hospitable growing regions - temperatures have increased 1C or 2C in recent years in Chiapas - won't be able to easily establish new plots up the mountain. Biospheres of the Sierra Madre de Chiapas are nationally protected zones where 10 percent of Mexico's plant and animal species live, although the zones make up only one percent of Mexican land.
Chiapas is a case study of the issues concerning the global production of coffee, one of the world's most-traded commodities. Changing consumer habits are another issue. In Mexico domestic demand for the beverage is up. These are additional pressures for the Mexican industry, one that employs 3 million people. Problems in coffee have forced farm workers to migrate to the United States in search of jobs. Others find work in the illegal drug trade.
In search of solutions, exploring genetic diversity is key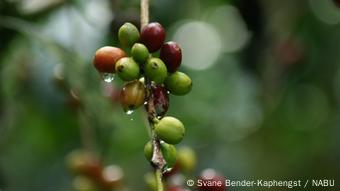 Coffee varieties growing in the wild need to be better researched.
"There's very little research done on coffee," said Timothy Schilling, executive director of World Coffee Research, a non-profit managed by the Texas A & M University System and entirely funded by some of the world's largest coffee companies.
There are thousands of geneticists studying crops like maize and wheat, but according to Schilling, there are only 20 to 30 coffee geneticists worldwide. World Coffee Research was founded in 2012 to address this gap.
"Let's say there are 100 decent coffee varieties out there in the world now," Schilling said. "The genetic diversity is only about 10 percent, because we know more coffee exists in the wild."
By "decent," Schilling means less inbred. Coffee producing nations in Asia, Africa, and South America grow less than a dozen varieties from this stock of 100, and those dozen were imported more than a century ago and haven't been bred with other strains. Worldwide, commercial Arabica coffee lacks the genetic diversity needed to be somewhat resistant to the environmental stresses of a changing climate.
However, in the 1950s and 1960s botanists organized expeditions to collect more than a 1,000 varieties of wild Arabica, which they then stored in seed collections in Costa Rica, Brazil, and Kenya. Schilling says he's not sure why these collections weren't capitalized on sooner, but now, scientists aim to genetically engineer new varieties from these germplasms, selecting for traits that could better withstand the effects of extreme weather.
It will be 15 years before superior varieties developed in the laboratory from these archives are ready to plant. In the race to meet the challenges of climate change, scientists in 12 countries have partnered with World Coffee Research to also enhance genetic diversity from the top 30 Arabica varieties already in circulation.
New strategies for farm management needed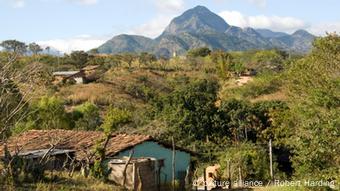 Higher mountain slopes would be better for coffee cultivation. But they are protected.
Back in Motozintla, Roberto Fermoso's concerns are not only about excess rainfall. He says policies allow smallholder coffee farms to receive fertilizers, plants, fungicides, and financial credits with Mexican government support - assistance that is not yet available to large farms. If they did receive aid, however, it could accelerate transforming the country's coffee production to meet climate demands.
Steps to reforest parts of Chiapas are also more necessary than ever, says Götz Schroth, lead author of a 2009 published paper relating the effects that climate change and extreme climate events, like droughts and hurricanes, will increasingly have on crop yields, erosion, landslides, and wildfires there. In the paper, Schroth advocates that smallholders daunted by these many hurdles shouldn't only rely on coffee and consider diversifying their farms to include agroforestry and other agricultural crops.
"You cannot plan climate change adaptation on the drawing board, because it may not affect regions in the same way; some might get wetter and some areas might get drier," Schroth said. "In the end, it's the farmers who need to make the decision, what works for them, what are acceptable risks."