Thousands of Colombians took to the streets of the capital Bogota on Wednesday demanding the government and leftist rebels resuscitate a peace deal that was narrowly defeated in a referendum earlier this month to end Latin America's longest-running conflict.
It was the second time in a week that protesters came out to support the deal signed by President Juan Manuel Santos and Rodrigo Londono, head of the Revolutionary Armed Forces of Colombia (FARC), on September 29, just a week before Colombians voted by "No" to the accord in a referendum by only a half a percent.
The protest in support of peace came the same day as those opposed to the peace deal led by hard-line senator and former president Alvaro Uribe presented the government with a list of proposals to amend the accord.
Those opposed to the deal, which came after more than four-years of tough talks in Cuba, are against its transitional justice provisions that allow for an amenesty for most FARC guerillas or require them to perform community service in war-torn places and want those responsible for atrocities to be locked up and barred from politics.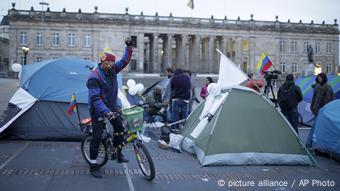 Peace activists have been camping out in Plaza Bolivar near congress and the presidential palace.
"This isn't a question of cosmetic changes," Uribe said as he delivered the proposals to the government. "In a country of institutions like Colombia, transitional justice can't consist of failing to punish those responsible for atrocious crimes."
The rebels, Colombia's armed forces and right-wing paramilitaries, have all been implicated in carrying out crimes during the nearly five-decade-long war that has claimed at least 220,000 lives and displaced some 8 million.
An amendment to the deal that doesn't include FARC transitioning to a political movement would be difficult for the leftist movement to stomach. Under the deal, FARC would have been given 10 congressional seats, which opponents say is unacceptable.
Londono, also known by the nom-de-guerre Timochenko, said in a rare interview with Caracol Radio on Wednesday that he was open to amending parts of the accord but that it could not be renegotiated from scratch.
"It would be out of place to go back and revive a discussion that took us more than a-year-and-a-half, which was one of the hardest and most difficult discussions," he said, referring to issues of justice and the rebel movement transitioning to a political party.
The rebel leader said there were attempts to find a solution and that "soon there may be news."
As the sides try to find a way out of the impasse, they have agreed to continue to observe a ceasefire agreed to earlier.
Responding to the outpouring of activism in support of the accord, Santos, who won the Nobel Peace Prize this month, said all sides needed to find a quick solution to avoid an unwanted return to conflict.
"The great majority of people have asked me to find a solution soon because uncertainty is the enemy," he said in a televised address.
cw/rc (AFP, AP, Reuters)