Thousands of people have fled across the border to China after fighting between the Myanmar army and ethnic Chinese rebels broke out in Myanmar's restive Kokang region, witnesses said on Wednesday.
A hotel worker in the Chinese town of Nan San said many people from Myanmar were looking for a place to stay, and for food.
"There are so many people here and the traffic is chaotic," a staff member identifying himself by his surname Li told Reuters news agency. "There are thousands of refugees here, and they look frightened," he added.
The owner of another hotel, calling himself by his surname Yang, said: "All we can do is to help them and give them food."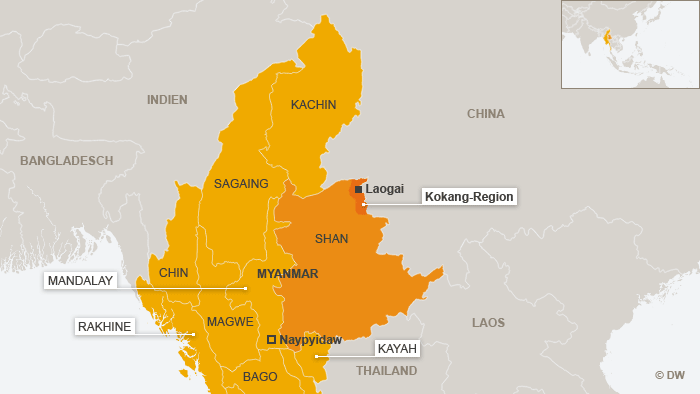 Insurgencies have been running in many regions of Myanmar for decades
Minority troubles
The influx of refugees comes after a raid staged on Monday by ethnic Kokang rebels in the town of Laukkai (aka Laogai), 800 km (500 miles) northeast of Myanmar's commercial hub of Yangon, in which some 30 people were killed. Government forces eventually succeeded in repelling the insurgents.
Myanmar is currently facing numerous spots of unrest caused by ethnic rebels, with an alliance of militias, including the Kokang, carrying out attacks in the northeast, and a new insurgency by Muslim Rohingyas gaining momentum in the state of Rakhine. Many of the minorities complain of discrimination or even oppression, and are seeking greater autonomy.
Myanmar leader Aung San Suu Kyi has made it her goal since coming to power less than one year ago to reach a comprehensive peace agreement with the country's ethnic minorities, but the latest fighting would seem to represent a step backward.
In a statement on Monday by the National Reconciliation and Peace Center, led by Suu Kyi, the government called on minorities to work toward achieving national harmony.
"I want to urge everyone to abandon the armed attacks that cause death and destruction for local ethnic groups and return to the peace table and join the peace journey that all ethnic citizens have been longing for," the statement said.
Continued peace efforts
A statement from the Myanmar military on Tuesday said the Kokang and its allies had still not yet signed cease-fire pacts, but that they were still welcome to attend a peace conference later this month if they laid down their arms.
China on Tuesday called for an immediate cease-fire between the two sides and urged the use of peaceful means to resolve differences.
tj/jm (Reuters, AP)